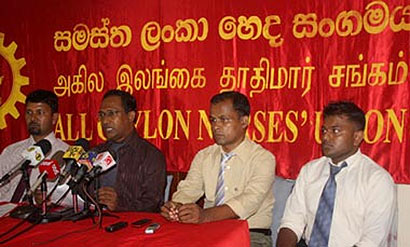 The All Ceylon Nurses' Union (ACNU) is demanding that the government allocate 5% of the Gross Domestic Product (GDP) to the health sector in Budget 2015.
ACNU President Gamini Kumarasinghe said that the health sector was currently in a crisis and there were a lot of issues remaining to be resolved, hence more funds should be allocated.
"There is a dearth of drugs, medical equipment and laboratory facilities in many hospitals. As a result of shortage of funds, patients as well as health sector employees are facing severe hardships," he said.
According to the Appropriation Bill – 2011, altogether 139.5 billion was allocated to the ministry compared with the Rs 117 billion allocated in 2014.
Meanwhile, when Ceylon Today contacted Deputy Health Minister Lalith Dissanayake, he said that the government had allocated sufficient funds to the health sector. He added that Health Ministry officials are having a special discussion with the Finance Ministry tomorrow.
"Unlike many countries in the world there is a free healthcare system in Sri Lanka, hence we do not get any financial return from patients. Therefore, we have constraints on spending public money, but we are providing great healthcare service to the citizens," he said.
(Ceylon Today)