Obama flies to India, looking to boost US economy
Posted by Editor on November 6, 2010 - 12:32 pm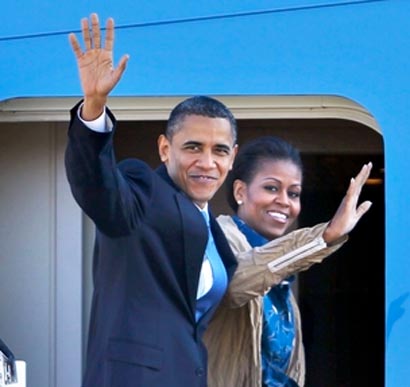 MUMBAI, India – President Barack Obama hasn't been able to drive down unemployment in America, so he's coming to India in search of U.S. jobs.
Four days after his party suffered heavy, economy-influenced losses in Congress, the president will arrive Saturday in Mumbai, India's booming financial center, where he will meet with local business leaders and with American executives who have traveled to India in search of billions of dollars in trade deals.
The White House hopes to announce agreements on aircraft and other exports, and generally broadcast that America is open for business with burgeoning India and its 1.2 billion residents.
The administration says that jobs and the U.S. economy are the focus of Obama's 10-day Asia trip, a message aimed at inoculating him against any criticism that he is concentrating on foreign affairs while Americans are suffering with unemployment at 9.6 percent. He left Washington shortly after the government reported the economy added 151,000 jobs in October but still not enough to lower the jobless rate.
The president said the jobs report was encouraging but "not good enough." In a gesture toward Republicans who won control of the House and made strong gains in the Senate in elections Tuesday, Obama said he was open to "any idea, any proposal" to get the economy growing faster.
On his foreign trip, the longest of his presidency so far, Obama's business-first message is aimed particularly at India, where he is spending three full days. That's the longest amount of time in any one country on a trip that's also taking him to Indonesia, where he lived for four years as a youth, to South Korea for a meeting of the Group of 20 developed and developing nations and then to Japan for an American Pacific Economic Cooperation forum.
In an op-ed published Saturday in The New York Times, Obama sought to underscore the importance of foreign trade to U.S. prosperity.
"It can be tempting, in times of economic difficulty, to turn inward, away from trade and commerce with other nations. But in our interconnected world, that is not a path to growth, and that is not a path to jobs," the president wrote. "We cannot be shut out of these markets."
The president also wrote that he would work while in South Korea to complete a free trade pact that has long been stalled in Congress over concerns, mostly from Democratic lawmakers, about terms for imports of U.S. autos into Korea, among other things.
White House officials aren't sounding too optimistic about a breakthrough on the trade pact while Obama's in South Korea, and the president — who as a candidate criticized the deal — emphasized that "any agreement must come with the right terms. That's why we'll be looking to resolve outstanding issues on behalf of American exporters — including American automakers and workers."
Obama will be speaking to a gathering of Indian and American chief executives on Saturday in Mumbai, and he's expected to announce the completion of job-producing commercial deals. The U.S. has been looking for India to finalize purchases of Boeing aircraft and marine engines produced by Caterpillar, among other exports.
Briefing reporters aboard Air Force One, National Security Adviser Tom Donilon said Obama intends the trip to be "a full embrace of India's rise." The White House is going to great lengths to bring attention to the economic potential and shared democratic values that define its relationship with India.
Said Donilon: "There's no more powerful way to do that than a presidential trip."
However, serious disagreements remain, and they appear unlikely to be resolved during Obama's visit.
India has raised concerns about the billions of dollars in military aid the U.S. is funneling to Pakistan, which is India's archrival but a linchpin for Washington and its allies in the war in Afghanistan. Leaders here also are wary of the increasing rhetoric by U.S. politicians against the outsourcing of jobs abroad, including to India.
Obama was spending more than 15 hours on his plane, interrupted by a refueling stop in Germany, to get to India.
He will spend about a day and a half in Mumbai before heading to New Delhi, the capital, for meetings with government leaders including Prime Minister Manmohan Singh.
Obama also is taking time while in India to visit cultural sites, including a museum in a home where Mohandas Gandhi once lived, and to pay respect to the victims of the 2008 terror attacks that left 166 people dead across Mumbai. Obama and his entourage are staying at the Taj Mahal hotel, one of the main targets of the attacks.
___
AP
Associated Press writer Ravi Nessman in New Delhi, India and AP White House Correspondent Ben Feller, traveling with Obama, contributed to this story.
Latest Headlines in Sri Lanka