O'Brien blazes Ireland to glory
Posted by Editor on March 3, 2011 - 5:46 am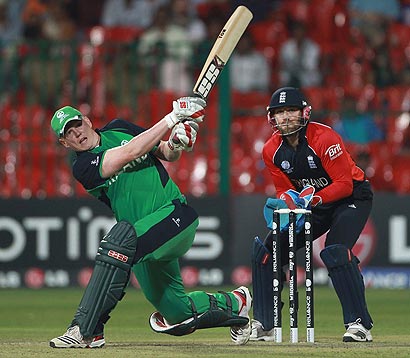 Ireland 329 for 7 (K O'Brien 113, Cusack 47, Swann 3-47) beat England 327 for 8 (Trott 92, Bell 81, Pietersen 59, Mooney 4-63) by three wickets
Kevin O'Brien stunned England with the fastest hundred in World Cup history as Ireland secured their greatest victory with a monumental three-wicket triumph in Bangalore. O'Brien clubbed a magnificent 113 off 63 deliveries as Ireland earned the highest World Cup run-chase with four balls to spare. After he'd added a match-changing 162 with Alex Cusack, John Mooney joined him to play the innings of his life and help write another famous chapter in Irish sport.
When the partnership was broken with 55 still needed Ireland could have lost their way, especially when O'Brien couldn't get the strike back. However, after struggling to get the ball away Mooney suddenly started locating the boundary, firstly off the outside edge but then with two nerveless drives through the covers, each coming after England had strung together a few dot balls to build pressure. He was the dominant partner in the seven-wicket stand.
Still, though, there was a final twist when O'Brien was run out in the penultimate over. Trent Johnston, however, drove his first ball, a full toss from Stuart Broad, for four as the equation came down to below a run-a-ball for the first time in the entire chase. The final over started with just three needed and off the second ball Mooney clipped Anderson through midwicket to set off epic celebrations that will take over any available Bangalore bar tonight.
O'Brien's innings was breathtaking. He entered when Ed Joyce, seemingly Ireland's last chance of making the chase a contest, was stumped off Graeme Swann to leave their run-chase floundering at 106 for 4, which soon became 111 for 5 when Gary Wilson fell lbw. But O'Brien proceeded to tear the England attack apart. He showed power reminiscent of Kieron Pollard but with a calmer head and better technique, bringing up his hundred off 50 balls with a tuck for two into the leg side to beat Matthew Hayden's World Cup record of 66 deliveries. It led to a reveal of his the purple head-do as part of Ireland's charity fundraising campaign.
He showed his intent early when he thumped Swann through the covers second-ball and the tucked into the offspinner's ninth over with two sixes over midwicket which injected life into Ireland's innings. O'Brien was on 35 off 22 balls when Ireland took the batting Powerplay and it was during those five overs that the chance of the impossible became possible as 62 runs surged onto the total.
As happened against Ryan ten Doeschate's onslaught in their opening match against the Netherlands, England's bowlers started to lose the plot during another wayward, undisciplined display. Michael Yardy went for 16 as did James Anderson whom O'Brien pulled for a huge six to take him to a 30-ball fifty. Anderson's next over went for 17 including another leg-side pull and in between whiles, even the normally reliable Tim Bresnan was dispatched, including the finest shot of O'Brien's innings when he drove a six clean over cover.
Really, though, fielding restrictions meant nothing to O'Brien and he continued on his merry way with another huge blow over midwicket to take him into the 90s. Then the whole of Ireland held their breath as O'Brien's next attempt to clear the rope sent the ball high into the night sky where Andrew Strauss made a lot of ground but then couldn't hold on.
O'Brien needed support to play his incredible innings and Cusack's role can't be understated in the amazing scenes which unfolded. He was almost lost in O'Brien's slipstream but sensibly rotated the strike until, off his 49th ball, he joined the boundary hitting by launching Collingwood over midwicket then thumped Yardy straight down the ground. Even his dismissal, run-out from backward point, was for the team cause as he ensured O'Brien stayed at the crease. Although he wasn't quite there at the end he had written himself a permanent place in Irish folklore.
Even more incredibly this wasn't a run chase built on solid foundations. William Porterfield dragged the first ball of the innings into his stumps and although Paul Stirling, Ed Joyce and Niall O'Brien all played neatly their contributions were seemingly too insignificant in such a huge pursuit. In the final outcome, however, the intent shown by Stirling, in particular, showed Ireland wouldn't take a backward step.
Tellingly, too, Stirling was given a life when Matt Prior shelled a simple chance which set the tone for another shoddy fielding display. However, it looked like England would comfortably emerge unscathed when Swann removed three middle-order scalps with a teasing spell of drift, flight and turn to leave Ireland 111 for 5. Already, though, O'Brien was at the non-striker's end and about embark on one of the great match-winning displays.
There are so many areas England will rue, chiefly another below-par display in the field but they will also look back on the closing stages of their seemingly impressive 327. The final five overs only brought 33 runs as Mooney preceded his crucial batting effort with some smart death bowling and a career-best 4 for 63. It meant, like for India three days ago, the 350-plus that was on the cards when Jonathan Trott and Ian Bell were adding 167 for the third wicket didn't materialise. This tournament is proving that big first-innings scores are no certainty of victory.
It will be largely forgotten because of what followed, but Trott wrote his own place in the record books when he reached 1000 runs in his 21st innings to equal the mark set by Viv Richards and Kevin Pietersen. The latter had set up the innings with a sparkling 59 before throwing away his chance of a hundred with a top-edged reverse sweep. It wasn't England's only piece of lazy cricket. Bell's was a lovely, easy, innings as he moved along with smart placement and deft touches to tick off his fifty from 61 balls.
After their problems against India, England actually used the batting Powerplay reasonably well to collect 45 runs and even though the middle order failed to fire once again it appeared fairly insignificant when Ireland's top order was whittled away. One man, though, stood in their way and the rest, as they say, is history.
Source: ESPN CricInfo
Latest Headlines in Sri Lanka