Serena Williams Has Blood Clot Removed from lung
Posted by Editor on March 3, 2011 - 12:21 pm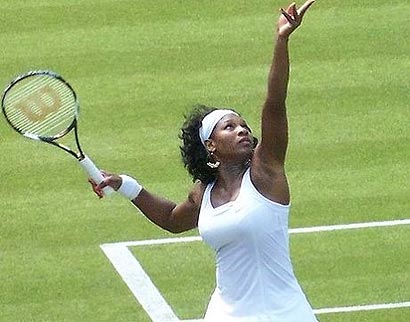 Los Angeles, 03 March: Serena Williams, a former world number one and a 13-time Grand Slam singles champion, had emergency surgery to remove a blood clot from her lungs, a representative for the tennis star said on Wednesday.
Nicole Chabot confirmed that the 29-year-old American underwent an emergency operation at Cedars-Sinai Medical Center in Los Angeles on Monday and continues to be hospitalized so physicians can monitor her recovery.
"Monday Serena Williams underwent emergency treatment at Cedars for a hematoma she suffered as a result of treatment for a more critical situation," Chabot said.
"Last week, Serena suffered from a pulmonary embolism which was discovered upon her return to L.A. She had been in New York for doctor appointments for the ongoing issues with her foot."
"Doctors are continuing to monitor her situation closely to avoid additional complications."
Williams has undergone two operations on her right foot since it was cut by glass at a restaurant. She has not played a top-level match since capturing the Wimbledon title last July.
In a message on the social micro blogging network Twitter, Williams posted the note "Tough day" just after midnight Wednesday morning in Los Angeles.
Williams, who ranks sixth among women on the all-time Grand Slam singles title list, has won the US Open in 1999, 2002 and 2008, Wimbledon in 2002, 2003 and the past two years, the French Open in 2002 and the Australian Open in 2003, 2005, 2007, 2009 and 2010.
The younger sister of fellow tennis star Venus Williams, Serena Williams stretched her stay atop the world rankings to 123 weeks before her limited play contributed to Caroline Wozniacki passing her for No. 1 last October 11.
The Williams sisters, 12-0 together in Grand Slam doubles finals, were to have played on the US Fed Cup team in last year's final against Italy but pulled out due to injuries.
A right hip injury forced Venus Williams to retire from a third-round match at the Australian Open in January and she has not played since.
—PTI—
Latest Headlines in Sri Lanka