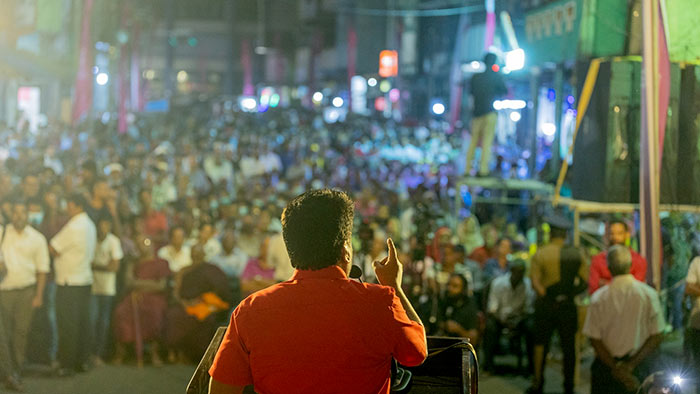 The leader of the National People's Power (NPP), MP Anura Kumara Dissanayake has warned Treasury Secretary Mahinda Siriwardena that trying to obstruct the upcoming Local Government elections is a punishable offence.
Addressing a rally held in Maligawatta on Friday (January 20), Anura Dissanayake stated that deliberately obstructing the election to be held on March 9 is an offence which can be punishable by three years in prison.
The NPP leader said this in relation to the affidavit submitted by Mahinda Siriwardena to the Supreme Court on Thursday evening (January 19) saying that it is an extreme 'challenge' for the Treasury to get additional money for an election at a time when the state's income is being battered by the economic crisis.
Accordingly, Anura Dissanayake emphasised that if the country's economy had stabilised, the election would have been postponed, but that was not the case.
He further argued that despite claims that there are no funds to hold the election, and that by doing so, it would only worsen the existing fuel and medicine crises, it takes only Rs. 8 billion to hold the election.
"It only takes Rs. 8 billion to hold the election. The recent sugar tax scandal in itself amounted to Rs. 15 billion. From this money itself, we can hold two elections. If you brought this country to a state where it is unable to even hold an election, you need to leave", Dissanayake stated.