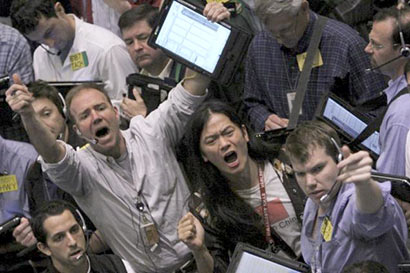 A file photo of traders working at the crude oil options pit at the New York Mercantile Exchange in New York.
– Submitted by Walter Jayawardhana –
The price of oil fell to near $93 on Wednesday after the publication of disappointing economic growth figures in Europe, with the 17-country eurozone languishing in its longest recession to date.
By early afternoon in Europe, benchmark oil for June delivery was down 94 cents to $93.27 a barrel in electronic trading on the New York Mercantile Exchange.
New figures released on Wednesday showed the eurozone's economy continued to contract in the first quarter, keeping it in recession for a sixth consecutive quarter. Although Germany avoided recession, its 0.1 percent quarterly growth was weak, while France fell into recession.
Oil prices have also been under pressure since the International Energy Agency on Tuesday raised its forecast for U.S. oil production while cutting its prediction for global crude demand.
Michael Hewson, analyst at CMC Markets, said in a market commentary that "rising inventories in the U.S. means that supply would likely outweigh demand for quite some time to come."
Oil companies to be investigated
Meanwhile, traders were monitoring news that the EU has launched an investigation into possible price-fixing on the oil markets. Three oil companies, Britain's BP, Royal Dutch Shell and Norway's Statoil, as well as Platts, a division of McGraw Hill Financial, which compiles prices for energy markets, confirmed they were being investigated. The EU, which did not name the targets of its investigation, said oil companies "may have colluded in reporting distorted prices."
"Even small distortions of assessed prices may have a huge impact on the prices of crude oil, refined oil products and bio-fuels purchases and sales, potentially harming final consumers," the EU said.
Later on Wednesday, the U.S. Federal Reserve will release industrial production data for April while the National Association of Home Builders releases its housing market index for May. The data will help shed additional light on the extent of the economic recovery in the U.S., which in turn could influence future energy consumption. The IEA predicted growth in global demand would remain subdued throughout 2013.
Brent crude, a benchmark for many international oil varieties, was down 32 cents to $102.19 a barrel on the ICE Futures exchange in London. In other energy futures trading on Nymex – Wholesale gasoline fell 0.16 cent to $2.836 a gallon. Heating oil lost 2 cents to $2.853 a gallon. Natural gas added 2.3 cents to $4.047 per 1,000 cubic feet. (The Hindu)