UK warns Sri Lanka on abuses before Commonwealth summit
Posted by Editor on May 16, 2013 - 10:40 am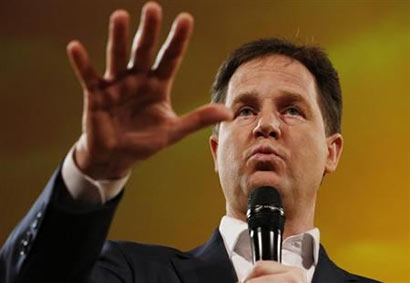 LONDON (Reuters) – Britain said on Wednesday there would be "consequences" for Sri Lanka if its leaders did not address international concerns over human rights abuses, ahead of a Commonwealth summit scheduled to be held in Colombo in November.
Deputy Prime Minister Nick Clegg told parliament "despicable human rights violations" had taken place in Sri Lanka, but that Britain still planned to attend the Commonwealth meeting there, a stance that has drawn heavy criticism from rights groups.
Sri Lanka has repeatedly rejected calls for an independent, international investigation into accusations of war crimes committed during the war with the Liberation Tigers of Tamil Eelam that ended in May 2009.
Tens of thousands of civilians, mostly Tamils, were killed in the final months of the war, a U.N. panel has said.
"All of us accept the controversy around this, accept the unease around this, but what we'll be doing by attending the Commonwealth Heads of Government Meeting in Sri Lanka is using the opportunity to cast a spotlight on the unacceptable abuses in Sri Lanka," Clegg said.
"Of course there will be consequences if there is not a change in conduct of the Sri Lankan authorities," added Clegg, standing in for Prime Minister David Cameron during parliament's weekly question and answer session.
Britain's Foreign Office was not immediately available to outline what consequences Clegg was referring to.
Sri Lankan government officials have repeatedly rejected accusations of human rights violations.
Cameron and Foreign Secretary William Hague are expected to attend the bi-annual Commonwealth meeting, and in a break with tradition, Prince Charles will represent Queen Elizabeth, who usually attends but is now, aged 87, cutting down on long-distance travel.
The summit is a meeting of leaders mostly from former British colonies, where issues including trade, development and human rights are discussed.
As well as human rights violations, Clegg said media freedom had been suppressed and legal professionals attacked.
Last month, Human Rights Watch called on the summit to be shifted from Sri Lanka, warning the Commonwealth will face "ridicule" if the meeting goes ahead.
Amnesty International has said Sri Lanka is intensifying a crackdown on critics, creating a "climate of fear", an accusation the Sri Lankan government rejected. (Reuters)
Latest Headlines in Sri Lanka