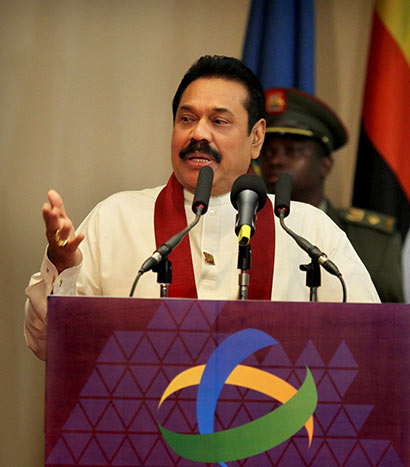 President Mahinda Rajapaksa, yesterday (May 14), delivered the keynote address at the Commonwealth Local Government Conference (CLGC) 2013 held in Kampala, Uganda, under the theme "Developmental Local Government: Putting Local Government at the Heart of Development."
"We, in Sri Lanka, have consistently regarded local government as the most practical expression of the ideals and aspirations of a functioning democracy," President Rajapaksa said.
President Rajapaksa spoke about the evolution of local government in Sri Lanka, a system that dates as far back as the 4th century B.C.
"Local government has not only been practical, but also effective in taking development directly to the people," President Rajapaksa said, drawing on Sri Lanka's experiences. "I am of the view that a certain level of state intervention is also necessary in order to ensure equitable distribution of the benefits and social inclusivity," he added.
Recalling that it was on a day like this, twenty eight years ago 146 innocent civilians were massacred by terrorists in the vicinity of Sri Maha Bodhi, President said that there was no human rights organization then to speak against such killings.
President further said that local government was among the first target of terrorism. Restoring Local government and accelerating economic growth were the priorities of Sri Lanka immediately after the end of the war, President added.
"The first victim of terror, we recall, was the Mayor of Jaffna in the North," President Rajapaksa said. "The twin pillars of durable peace and political stability have opened doors for Sri Lanka to move forward on accelerated economic and social development."
Ugandan President Yoweri Museveni, delivering the inaugural address, also commended Sri Lanka's efforts in ending terrorism in the country and assured Uganda's presence at the Commonwealth Heads of Government Meeting (CHOGM) in Colombo this year.
"I salute the people of Sri Lanka for achieving peace," President Museveni said. "We're looking forward to attending the Commonwealth Heads of Government Meeting (CHOGM) in Colombo in November."
Addressing the gathering via video message, Commonwealth Secretary-General Mr. Kamalesh Sharma said, "CLGC makes an immense contribution to democracy at a level which citizens benefit most."