One week – Two oath ceremonies for lucky Vigneswaran
Posted by Editor on October 17, 2013 - 7:47 pm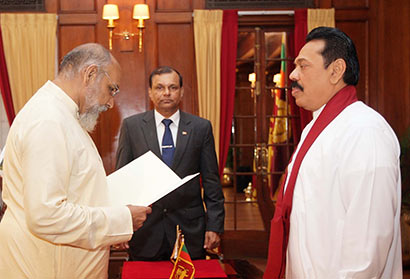 – by Janaka Alahapperuma – pix by: Sudath Silva –
Newly elected Chief Minister of the Northern Province C.V.Vigneshwaran was sworn in once again for more ministerial portfolios of the provincial council this morning (17 Oct) at the Presidential Secretariat. The Chief Minister took oaths before President Mahinda Rajapaksa. This is the first time in history that a chief minister took oaths twice in a week. Earlier Wigneswaran was sworn in as the Northern Provincial Council Chief Minister on the 11th of October.
North Province Finance and Planning, Law and Peace, Land and Road Development, Electricity, Housing and Development , Water supply , Co-operative Development, Social Services and Rehabilitation, Women Affairs, Industries and Enterprise Development, Tourist, District Management and Provincial Councils, Management, Food Supply and Distribution were all assigned to Chief Minister Vigneswaran who is very lucky to have all important portfolios under his belt. In the mean time government has taken a decision to invite Vigneswaran for cabinet meetings to discuss matters related to the Northern Province.
SLFP General Secretary Minister Maithripala Sirisena, and Ministers Dullas Alahapperuma, Susil Premajayantha, Nimal Siripala de Silva, Anura Priyadharshana Yapa, Northern Province Governor Major General (Rtd) G. A. Chandrasiri, TNA Parliamentarian M. A. Sumanthiran and Secretary to the President Lalith Weeratunga were present at the oath ceremony.
Meanwhile, the conflict within the Tamil National Alliance (TNA) has further aggravated with the inaugural session of the recently elected Northern Provincial Council which is scheduled for October 25. The political sources in London connected to the Tamil political parties confirmed that there are conflicts between groups of elected members and the Chief Minister of the province. The political parties belonging to the TNA have also criticized the political activities of its leader and the Illankai Tamil Arasu Kadchi (ITAK) leader R.Sambanthan for behaving like a dictator and taking controversial decisions without informing them. The ITAK is the dominant constituent of the five-party Tamil National Alliance (TNA), comprising the TELO, the EPRLF, the PLOTE and the TULF. Political analysts point out that due to this situation the division in the TNA could become evident at the maiden session to be held on the 25th of this month.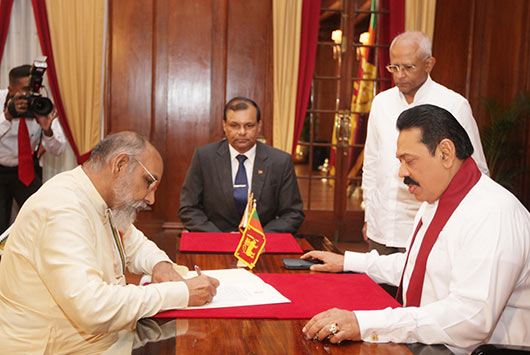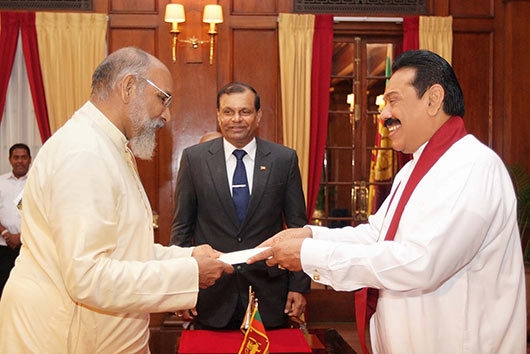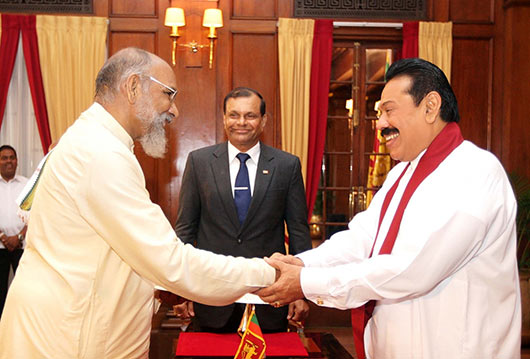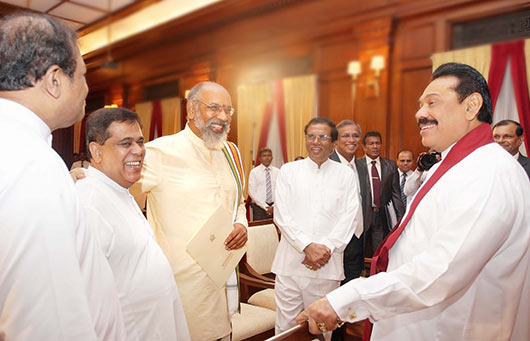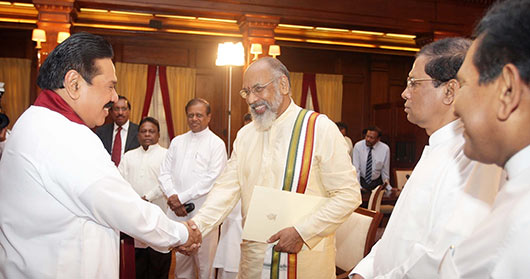 Latest Headlines in Sri Lanka