Onlanka News receives web registration certificate with 26 others
Posted by Editor on January 13, 2012 - 7:50 pm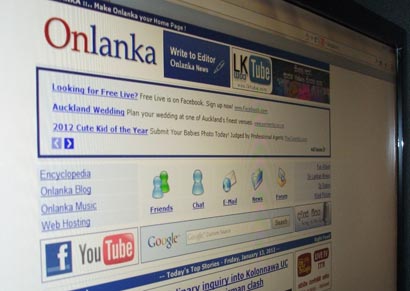 Onlanka.com, one of the premier Sri Lankan News websites and 26 other websites received their certificates of registration with the media and information ministry today (13th Jan) at a function held at the ministry auditorium chaired by the Minister Keheliya Rambukwella.
Ministry secretary W.B.Ganegala said out of 81 applications received by the ministry 18 applicants had not turned up for the interviews, while 17 who failed to comply with requirements were rejected.
Minister Rambukwella said web registration is so important that it should have taken place earlier and went on to say that he is happy that it has happened atleast later than never.
The media has the freedom and the right to agree, disagree or totally reject any opinion but no ethical right to insult anybody or any institution, he stressed.
The minister also hoped that the websites would follow the set of ethics provided along with the certificates.
According to the minister 49 radio channels and 21 television channels are registered while the Sri Lanka Press Council has given registration to 153 newspapers.
The ministry said that it would take action to register relevant websites on receipt of their applications in future.
Following is an extract from Dinamina 14th January 2012: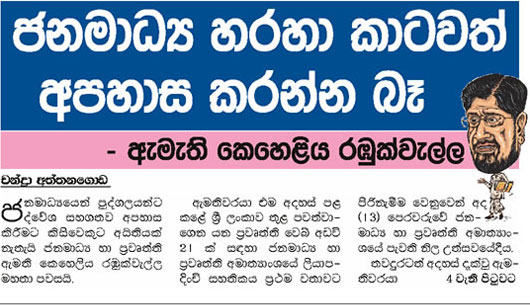 Following is the Registration Certificate issued to Onlanka News: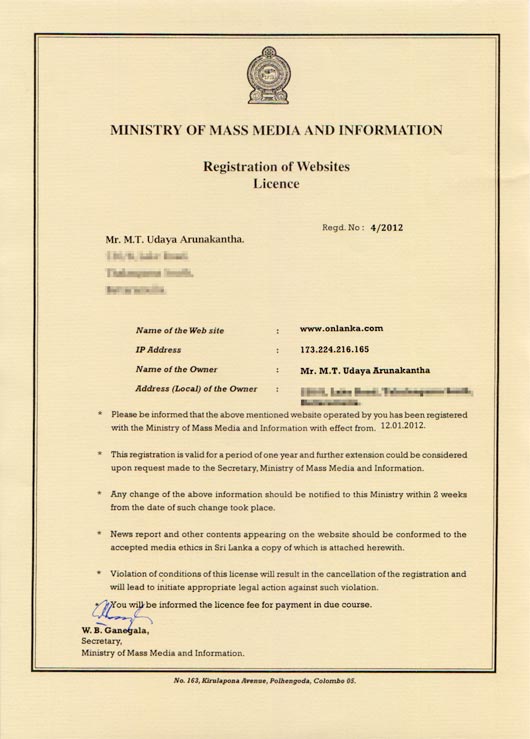 Websites which received their certificates of registration
www.onlanka.com – M T Udaya Arunakantha
www.jayasiriradio.com – Sri Nimal Padma Kumara
www.srilankasports.com – Hishan Welmilla
www.hothotlanka.com – Dhananjaya Sooriyaarachchi
www.lankabusinesstoday.com – Global Media Network Ltd
www.tamilaa.com – Pakkiyanathan Jayantha
www.srilankamirror.com – Kelum Shivantha
www.pawuraradio.com – Priyangika Godakanda
www.lankasitizen.com – J P V Vipulanga
www.micsrilanka.org – Muslim Information Centre
www.kalasem – M F A Besith
www.puvath.lk – S kaushalya Wickramasinghe
www.tharunayaweb.lk – Gigies (Pvt) Ltd
www.lankanews.lk – Athula I Athulathmudali
www.lankareporter.com – A Dammila Deeptha
www.rangalivefm.com – Nihal Fernando
www.lankika.net – Zarook Marikkar
www.siddioice.info – Sujith P Fernando
www.srilankapatriot.lk – Dr Telli C Rajaratna
www.nation.lk – Rivira Media Corporation (Pvt) Ltd
www.lankaelink.com – Amila Kamkanange
www.lakfmradio.com – LakView Broadcasting Company (Pvt) Ltd
www.vfmradio.lk – Lanka Television Networks
www.karaitivu.org – Mendis Appu Prasath
www.sihasara.com – Sihasara Infortainment
www.maruthamunaionline.com – Suhail Jamaldeen
www.news360.lk – L C Prasanna Rodrigo
Latest Headlines in Sri Lanka