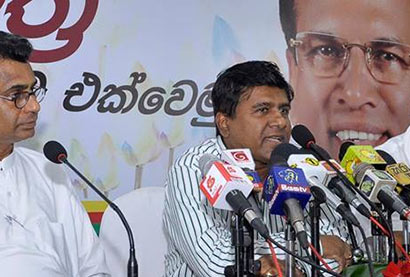 The UNP-led Opposition yesterday declared that a victory for Opposition presidential candidate Maithripala Sirisena at January 8, 2015 poll would help settle accountability issues/war crimes charges raised by the Geneva-based United Nations Human Rights Council (UNHRC).
Addressing the media at the Opposition Leader's Office at Sir Marcus Fernando Mawatha, UNP strategist MP Wijeyadasa Rajapakshe, PC, stressed that as re-election of incumbent President Mahinda Rajapaksa for a third term would be inimical to Sri Lanka's interests, people should vote for Maithripala Sirisena. MP Rajapakshe was flanked by one-time JVP heavyweight Nandana Gunatilleke and Western Provincial Councillor S.M. Marikkar, who is also UNP organiser for Kolonnawa.
MP Rajapakshe said that those struggling to make ends meet would have to face the consequences in case President Rajapaksa won the election. The MP mentioned the possibility of the country having to face economic sanctions unless the forthcoming presidential election brought an end to President Rajapaksa's rule.
PC Rajapakshe said that only a new government could defeat foreign elements working against the country.
The Opposition spokesman assured that it would protect defeated President Rajapaksa from being hauled up before an international war crimes tribunal.
Asked by The Island whether the Opposition could give such a guarantee as it as well as the government weren't in a position to influence the UNHRC, MP Rajapakshe said that the SLFP-led UPFA should take the responsibility for the present situation. The MP alleged that the government had earned the wrath of Western powers and India particularly after the conclusion of the war in May 2009. Had the UPFA acted sensibly that situation wouldn't have arisen, MP Rajapakshe said, adding that spate of attacks on non-Buddhist places of religious worship had caused anger among the international community. The MP pointed out that the case of religious extremism had been raised in Geneva by no less a person than SLMC leader Rauff Hakeem holding the justice portfolio.
The UNPer alleged that the government was making a desperate attempt to deceive the electorate by claiming a clandestine agreement between the Opposition and pro-LTTE diaspora. The government had conveniently forgotten that President Rajapaksa and the External Affairs Ministry had invited the UN to inquire into accountability issues soon after the conclusion of the war.
At the 25th UNHRC session last March, the UN adopted a US-sponsored resolution to launch an external investigation into war crimes allegations directed at political and military leaderships.
The MP alleged that the government had turned a blind eye to the EU lifting restrictions on the LTTE as it felt funds in various accounts maintained by the LTTE could be secured through one-time head of LTTE procurement Kumaran Pathmanathan alias KP. Rajapakshe said that Pathmanathan had joined President Rajapaksa during polls campaign in the Mullaitivu District last Thursday.
(The Island)