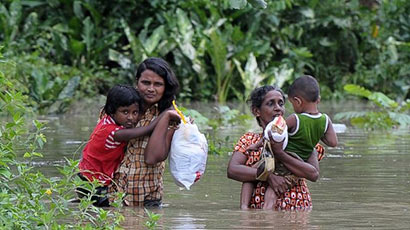 Over 40,000 people have been displaced after heavy rains triggered floods across the country, the Disaster Management Center said.
Thousands of people were forced to take refuge in schools, temples and community halls in the Northern, North Central and Eastern provinces as the areas were slammed by floods that came after two days of raining.
The floods have disrupted road and railway transport services in the affected areas as well.
The Government Information Department today also announced that that spill gates of several tanks including the Kalawewa, Rajanganaya, Tisawewa, Nuwarawewa, Nachchaduwa, and Mahakanadarawa tanks have been opened.
According to the Water Management Unit of the Department of Agrarian Development the opening of spill gates were done due to water levels of 300 tanks in the Anuradhapira District alone  have reached the danger level as a result of continuous rain.
The disaster management centre states that people in the Anuradhapura, Polonnaruwa, Puttalam, Mannar and Trincomalee are battered by the inclement weather and flooding.  The low lying areas are inundated by the floods.
Anuradhapura and Somawathi sacred areas have also been inundated due to the spilling of the Malwathuwa.
The government has instructed the relevant authorities to take immediate measures to ensure relief for the families hit by the bad weather.
A severe drought lashed Anuradhapura and Batticaloa from August to November, destroying large areas of paddy fields.
(Ada Derana)