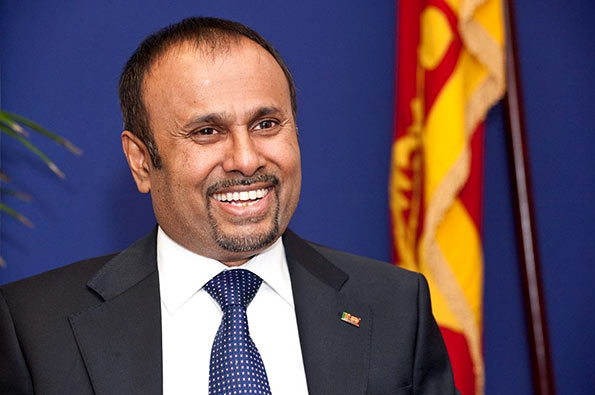 The Colombo Fort Magistrate yesterday issued an open warrant written in English through the Interpol for the arrest of former Ambassador to Russia Udayanga Weeratunga, a first cousin of former President Mahinda Rajapaksa.
This is in connection over the financial fraud that is alleged to have taken place in procuring seven MiG-27 ground attack craft for the Sri Lanka Air Force (SLAF).
Magistrate Lanka Jayaratne made this order pursuant to a request made by FCID citing that he is continuously evading courts.
The FCID conducting investigations into MiG aircraft transaction had named Udayanga Weeratunga as a suspect in the case through a B report filed in the Fort Magistrate's Court.
The Court was informed through FCID that INTERPOL had issued a 'Red Warrant' on Udayanga Weeratunga, naming him as a fugitive wanted by the Sri Lankan authorities.
The FCID had informed Court that Udayanga Weeratunga had directly intervened into the questionable transaction in procuring MiG-27 ground attack crafts. The FCID said the deal amounted to US$14 million.
On June 9, 2016 the Colombo Fort Magistrate had issued notices on Udayanga Weeratunga to appear in Court July 15 but he did not turn up. Thereafter, on October 20, 2016 court had issued a warrant for the arrest of Udayanga Weeratunga.
The FCID had told Court that they were investigating whether the former Sri Lankan ambassador in Russia had invested money in a company called Sri Lankan Limited Liability Company in Moscow, which were earned through the Mig-27 transaction.
Meanwhile, the FCID named foreign nationals and foreign company as suspects regarding this case.
The FCID launched this investigation following a complaint lodged by defence columnist and political writer Iqbal Athas.
In his complaint to the FCID, journalist Iqbal Athas stated that he had written several articles regarding the financial irregularities that had taken place in procuring four Mig-27 aircraft at a higher price. He told the Police that these ground attack aircraft had been manufactured between 1980 and 1983.
He said financial irregularities had taken place during the transaction between Sri Lank and Ukraine.
Chief Inspector Nihal Francis appeared for the FCID.
(Source: Daily News – By Lakmal Sooriyagoda)