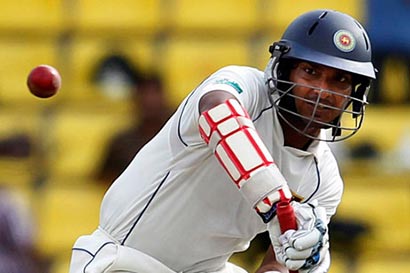 Kumar Sangakkara, the No. 1 ranked Test batsman, is raring to pick up his bat after a finger injury sustained during the ODI series with India in July forced him into a break. Prior to his injury, Sangakkara had a successful year in all three formats leading to four ICC awards nominations including the Cricketer of the Year.
After what he says has been the longest period he has been away from the game, Sangakkara hopes to work on his fitness and make a strong comeback. He spoke to ESPNcricinfo about his recovery from the injury and Sri Lanka's chances in the upcoming World Twenty20 tournament.
Q: Has your injury healed completely and will you be fit for the World Twenty20?
KS: The injury's healed pretty well. I went and saw the surgeon a couple of days ago he was extremely happy with the progress. I've been trying to work on strengthening my hand; my wrist has weakened a bit over the four weeks it was in the cast. It's just a case of doing my rehab properly and by the beginning of next week I can get back to batting. It's hard not to touch a bat. As soon as the cast came off, I started just doing shadow batting so that I can get the feel of my hand around the grip, it also helps to strengthen my wrist and get me to kind of mentally prepare myself for playing. Initially when I touched the bat, I felt a bit strange. The finger felt that it was not really part of my hand but now within two days of working with Stephen our physiotherapist, he's been really great checking up on me at every stage. He's worked with me really well.
Q: Is this the longest period you have been out of cricket?
KS: There was another fracture I had on my thumb but we didn't have any international cricket at that time, so I was lucky. It was another 5-6 weeks that I spent. I had a hamstring injury in Australia but I was back in 17 days. This is probably the longest.
Q: You probably might have welcomed that break from cricket to be with your family?
KS: The injury gave me more time with my family. I don't think I have missed a game in about two and a half years and it was nice to spend some time with my family and my children, especially when they are 3 years old, it's a great age to be at home. Also I had to do a lot of household work, household chores, things that I had time to take care of. There were a lot of things I had my attention on, so I wasn't missing cricket. I had so much to do that it was good that my mind was off the game. It was a good rest. I just need to come back strong and work on my fitness and get back straight into playing.
Q: Your views on the Sri Lanka World T20 squad?
KS: Our World T20 side is a very good pick and with two new guys in Dilshan Munaweera and Akila Dananjaya, it would be interesting to see how these guys fare. Munaweera is a top order bat and will be competing for places with Mahela [Jayawardene] and [Tillakaratne] Dilshan at the helm. It would be difficult for him to get a look in at the start unless Mahela is forced to go down into the middle order, that's probably one way where Munaweera will be playing. But he's looked really solid in the Sri Lanka Premier League. He has a great body language and great presence at the crease. I watched him time the ball and also he's shown a lot of maturity from the way he started the tournament. I saw him get into the six overs and batting on. He showed a slight weakness against spin at the start but managed to get over that very quickly. He looks like a guy who learns very quickly.
Akila from the way he bowled in the nets and the way he bowled in the SLPL, he looks a lot more mature than his 18 years. It would be interesting to see how he can make the side and what combination we would play to include him in the side. He is an exciting young prospect. He is new and still a bit raw, but most of the sides haven't seen him so when you have variations like that, it's good.
I've been very impressed with Ajantha Mendis, after seven months away, he's come back into this tournament and bowled excellently. He's fielded really well and he looks like he's got a new energy and a new enthusiasm that's going to really work for us.
Then we have the solid guys who have been there, Rangana Herath, [Nuwan] Kulasekara and [Lasith] Malinga, Mahela and Dilshan, at the top, [Lahiru] Thirimanne, Jeevan Mendis and Angelo [Mathews] in the middle and Dinesh Chandimal to bat anywhere, basically he's more suited to bat at no. 3. We have a very good mixture with Shaminda Eranga who's come back very strong from injury. It looks a good and balanced side, now it's a case of going to the games and performing.
Q: Akila, like Ajantha Mendis before him, has been tagged a mystery spinner. What's so special about him?
KS: He's got a great attitude, he is very competitive on the field and he's got good variations in bowling – about three or four balls. He bowls at a lesser pace than Mendis whose variations were a bit more subtle when he started. Akila is not Mendis, but he's got something different to him. That's what you look for in a big tournament when you are trying to play an opposition and try and get a competitive edge.
Sri Lanka have produced some of these bowlers over the years but mystery is the wrong word to use to a spinner. There is no mystery in modern day cricket. Everyone has studied everyone. It's just a case of reading the hand and once a batsman starts doing that, the bowler of course has to change to stay a step ahead. It's very interesting times for Akila I just hope he keeps this attitude, keeps learning and keeps improving as the years go by.
Q: Who are the key players to watch in the World T20?
KS: It's going to be an interesting time. We got some great T20 players playing in this tournament and it's hard to single out anyone. Australia always play well, England's really improved in T20 cricket, South Africa are a great side, Pakistan look very strong but West Indies look like they are extremely well suited to play this format now. With Sunil Narine, Chris Gayle back at the top, [Kieron] Pollard, [Darren] Sammy, Dwayne Smith, Darren Bravo, Dwayne Bravo and Marlon Samuels back they've got a great mix. West Indies are a side to watch.
We of course play our cricket in a different manner to all these sides. We have players who will stand out, guys like Mathews, Dilshan, Mahela, Malinga, they'll be the stars. The rest of the guys work hard to give them the foundation they need to shine. Our job is to make sure that once we know our roles, we execute it well. We'll be a very tough side to beat.
Q: Your views on the three World T20 venues?
KS: Khettarama (R Premadasa Stadium) is a classical example where 220 (in ODIs) meant you usually won a game. The ball would turn square, you win the toss, you bat and you win the game. It changed for a while where you batted first not because it turned but because the ball started swinging insanely in the night. When the wickets were relaid, in the first few games there was a lot of turn and now they've settled down into beautiful wickets where batting first or second you have an equal chance of winning and batting under lights has become so much easier that some sides now prefer to chase.
Pallekele seems to have a lot in it at night. It seams and swings around and that will be an interesting challenge for us being a Sri Lankan side playing in our conditions to encounter those conditions.
Hambantota is completely different. There is quite a strong wind from one side and the pitch can be a bit up and down. Our pitches are now offering different challenges but the vicious turn that it used to have is no more. So sides have to adjust accordingly.
Q: Have we lost the home advantage in the sense that we are giving other sides also an opportunity with the type of pitches we prepare?
KS: Our sides have also changed a little bit. We don't depend on spin alone anymore or just a fast bowler in Chaminda Vaas. We have different sets of fast bowlers and different sets of spinners. With the change in conditions, our sides have changed but home advantage is not only about wickets, it's about playing in your country, playing in front of the people that cheer and love you. It's about being comfortable at home. All of those things add to your home advantage on wickets. We can't just look at a wicket and say we want it exactly the way it suits us, especially now they have independent curators who monitor wickets. We've got to learn to roll with the punches and change with the times. Playing at home in a World Cup is a massive advantage.
Q: Would you put your team down as one of the favourites?
KS: Sri Lanka have always been favourites in my view in any tournament that we play because we've been able to rise to those big occasions really well as a unit and adjust accordingly. In big tournaments we always had a great run. If you take our last 4-5 years it's been an amazing run in big tournaments. We just need to believe in ourselves and believe in that fact and keep playing.
Q: What is the biggest change you see the team has undergone that has made them so competitive?
KS: Physically, we can get a lot stronger and that prevents injury. Mentally, we still need to work on controlling emotions, attitude, addressing problems, having better communication with the management, players and administration. All of those things help. Even better relationships with the media help in ensuring that there's development and an improvement on the field. Skillwise we have always been very good. We'll be restructuring certain sections of our first-class cricket in the near future and that will help.
As a side we have changed in our make-up. We have accepted the fact that Murali and Vaasy are gone, Sanath [Jayasuriya] and Marvan [Atapattu] are also gone and our side's make up has changed to a more settled outlook where we understand the role of fast bowlers, where we have a new set to choose from. The spinners are different, our batting make-up has changed, we don't have the Jayasuriya explosion at the top anymore. So we started to win games in different ways. At the same time we have to be a bit careful because playing spin is one of our strengths and we need to keep working on that and improving on it because what I've seen around the world is that other sides have improved remarkably against spin – sweeping, reverse sweeping, all these shots have given them a huge advantage. So we need to keep pace with it and go beyond that because traditionally we are very good players of spin.
In Asia, we are the best players of pace as well. If you take all the Asian countries, we have this great advantage and we keep producing very good players. If you take the Chandimals and the Thirimannes, they've been excellent finds. Even [Jeevan] Mendis is doing really well. We need to take them and polish them up so that they become greats.
ESPN Cricinfo