Outcome of the probe will be known early this week
Posted by Editor on March 10, 2013 - 8:05 am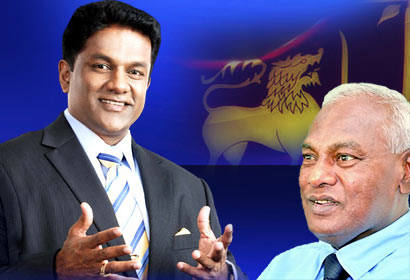 The executive committee of Sri Lanka cricket has appointed an independent panel to probe into the objects against the contestants for next year's race for the chairs at the Maitland Place office.
Objections have been filed against all three contestants for the post of President. The contestants for the post of President are — the incumbent President Upali Dharmadasa, former SLC President Thilanga Sumathipala and Badureliya CC stalwart Sumith Perera.
The panel will be headed by President's Counsel Palitha Kumarasinghe.
The objection against Upali Dharmadasa is claimed to be that he has not played first class cricket and also have not obtained prior special permission from the Sports Minister Mahindananda Aluthgamage prior his handing over of the candidature.
The objections against former chairman Thilanga Sumathipala is said to be his association with the gaming industry, and the media also being involved in the trade of sports goods.
The claim against Sumith Perera is said to be that he had not been a member of the executive committee twice within the last fifteen years.
Objections also have been filed against K. Mathivanan who is contesting for the post of vice-president and Ajita Pasqual who is contesting for the post of assistant treasurer.
Mathivanan and Pasqual are presently holding the same positions in the Sri Lanka Cricket executive committee. The objections against Mathivanan and Pasqual are the same as that of Sumith Perera.
Sri Lanka Cricket secretary Nishantha Ranatunga explained to the Sunday Times – "Last year when we were contesting we obtained special permission from the Sports Minister prior to handing over the nominations. Now as there are objections against these candidates the committee will probe into the complaints and come to its conclusions by early next week. The committee will interview all the complainants and go into other details too".
The objection against Dharmadasa has been filed by Kurunegala YCC. The objection against Thilanga Sumathipala has been filed by Badureliya CC and Kegalle CC while the complaint against Sumith Perera has been filed by Galle CC.
The findings of the committee will be directed to the Sports Minister.
It is also learned that Thilanga Sumathipala has obtained clearance from the International Cricket Council President Alan Isaac to the effect that the ICC would not oppose him in the e vent of him being elected as the President of Sri Lanka Cricket.
The Sri Lanka Cricket Annual general meeting is scheduled for the 30th of this month.
Meanwhile an SLC communiqu said "Mr Ajit Jayasekera, CEO SLC, conducted an inquiry on the Lasith Malinga incident and in his report to the Executive Committee, recommended that Malinga be censured and advised on his behaviour when dealing with the press in the future, considering his standing in the game.
The Executive Committee accepted his recommendations and appointed Mr. Camillus Abeygunawardena (Retired DIG and Ex Co Member), Mr. Harigupta Rihanadeera (Attorney at Law and Ex Co Member) and Mr Ajit Jayasekera (CEO, SLC) to speak to Lasith Malinga on this matter."
(Courtesy: The Sunday Times)
Latest Headlines in Sri Lanka