Over 200 held for protest near Sri Lankan embassy in Chennai
Posted by Editor on August 7, 2016 - 1:49 pm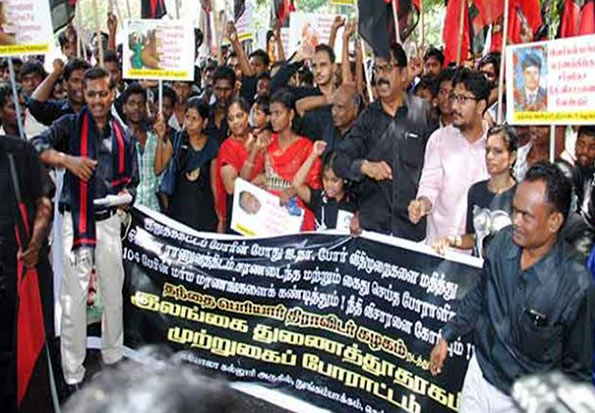 Tense situation prevailed at Nungambakkam in the Chennai city yesterday, after members of Thanthai Periyar Dravidar Kazhagam held a protest in front of the Sri Lankan deputy high commission.
The Indian media reported that the cadres demanded for an inquiry into the deaths of Lankan Tamil refugees. Speaking to reporters, the party's general secretary Kovai Ramakrishnan said, "There should be an international inquiry into the suspicious deaths of 104 persons in refugee camps".
Stating that there is no difference between the functioning of the erstwhile Mahinda Rajapakse regime and that of the incumbent Maithripala Sirisena, he said, "Both the government function against the interests of the Lankan Tamils".
Seeking safety of the Tamil community in the island nation and in camps, Ramakrishnan said, "The international court of law should investigate into the deaths of the 104 persons after the 2009 Lankan war, as doubts continue to linger if the deaths were caused due to vaccination or other foul motive".
Even as the protestors attempted to march forward into the embassy, the city police put a check and apprehended them. As per sources, about 200 members were taken to custody by the police.
(Daily Mirror)
Latest Headlines in Sri Lanka