Pakistan end Australia's run to finish top
Posted by Editor on March 20, 2011 - 8:37 am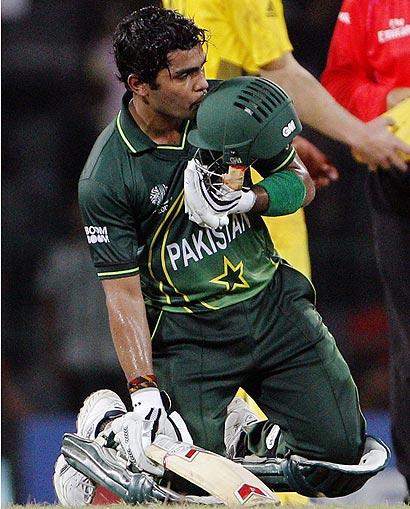 Pakistan 178 for 6 (Shafiq 46, Umar 44*, Lee 4-28) beat Australia 176 (Haddin 42, Gul 3-30)
Pakistan were the last team to overcome Australia at a World Cup and it was they who brought Ricky Ponting's 34-match unbeaten run to an end with a four-wicket victory in Colombo to secure top spot in Group A. An impressive display in the field laid the foundations as the reigning champions were bundled out for 176 on a difficult surface, their lowest total in a World Cup since 1992, and despite a mighty effort from Brett Lee Pakistan were guided home by Umar Akmal and Abdul Razzaq.
Despite not having either team's progression at stake, the final group positions determine quarter-final opposition while momentum is also a factor. Both teams were hyped for the contest, and it came to an early head when Umar and Brad Haddin almost came to blows in the field. Australia were desperate not to relinquish a proud record dating back to May 23, 1999.
After their batting subsided with 20 balls unused, Australia's only chance was to bowl Pakistan out, but in the event it required Lee himself to do most of the damage. He removed both openers in a fiery new-ball burst before returning to claim Younis Khan and Misbah-ul-Haq with consecutive deliveries in 23rd over, leaving Pakistan wobbling on 98 for 4.
However, support for Lee was too late in coming which didn't leave enough runs for Australia to play with. Mitchell Johnson had Asad Shafiq taken at slip off the glove for a composed 46 and Shahid Afridi brainlessly carved to long-on against Jason Krejza. Surprisingly, Lee wasn't immediately recalled with 34 runs still needed and by the time he came back the target was down to 10. Umar played one of his most composed innings yet, and Razzaq finished the chase with consecutive boundaries.
Lee could easily have removed Kamran Akmal in the first over of Pakistan's reply, while in his second over he squared up Mohammad Hafeez and made good ground to take the return catch. With attacking fields set by Ricky Ponting, further boundaries were notched up by Kamran and Shafiq, who had to battle some pain after twisting his ankle, but Lee kept his side in the match singlehandedly.
After being carved over the covers he thundered a rapid delivery into Kamran's pads and this time he was given out by Marais Erasmus with the review unable to save him. However, Ponting knew he had to save some of Lee for later and his spell ended after five overs which released the pressure on Pakistan.
Shafiq, who showed his composure against Zimbabwe in his first World Cup outing, played another mature hand knowing that the required rate was always in hand. Both he and Younis had a few nervous moments – with the pair edging through a vacant slip cordon – but together they took the requirement below 100. Eventually, though, Younis flashed once too often outside off and gave a simple catch to Brad Haddin, and from the very next ball, the match was back in the balance when Misbah, the other half of Pakistan's experienced middle order, hung his bat out at a Lee outswinger.
Umar wasn't going to fiddle his way towards the target and drilled his fifth ball through the covers, but to his immense credit he throttled back to play a very mature hand. He picked the right moments to attack, including a six off Krejza, and didn't panic after Lee's rapid inroads. It helped that he had the experience of Razzaq at the end to see them across the line.
Australia have been saying how they wanted a test after easing through most of the group stage but the batting wasn't up to it on a difficult surface that offered spin and a touch of uneven bounce. Two batsmen desperate for a substantial innings, Ponting (19) and Cameron White (8), both struggled leaving the lower order exposed to an attack that had all the bases covered on a surface offering spin and reverse swing.
Pakistan had an early scare when Gul pulled up at the start of his second over with a knee problem and needed attention from the physio. Whatever treatment was provided worked wonders because he produced a lovely nip-backer to beat Shane Watson's ambitious drive. Ponting has been scratchy during the tournament and was again unconvincing with his first boundary came from a fortunate top-edge after he was comprehensively beaten by a Wahab Riaz bouncer.
Not for the first time spin brought his downfall when he tried to cut Hafeez, who produced a superb 10-over spell for 26, and got a thick edge that Kamran did well to take in the webbing of his right glove. However, it was originally given not out and the DRS was needed to overturn the decision in Pakistan's favour. Meanwhile, as the players waited for the TV umpire, there was an altercation between Haddin and the Pakistanis.
Haddin has been consistent during the tournament without reaching the three-figure score the top order needs and he couldn't convert here when he pushed at a delivery from Wahab Riaz. Misbah missed an opportunity to run out Michael Clarke but made no mistake when his next chance came around when his throw to Kamran found White short after a laboured stay.
In Clarke and Michael Hussey, Australia had two of their in-form players together but even they found scoring tough as Afridi mixed up his bowling options. Razzaq was held back until the 35th over and made an immediate impression when Clarke missed an ugly heave against a well-disguised off-cutter which trimmed the off bail.
Hussey couldn't perform a rescue-act, either, when he chipped a simple catch to midwicket and the innings was coming off the rails as Razzaq produced a nippy delivery to find Johnson's outside edge. It left the tail to cope with Gul and Afridi which proved too much, but Australia weren't many short of a matchwinning total. The quarters and semi-final will be fascinating viewing if the pitches are anything like this surface.
ESPN Cric Info
Latest Headlines in Sri Lanka