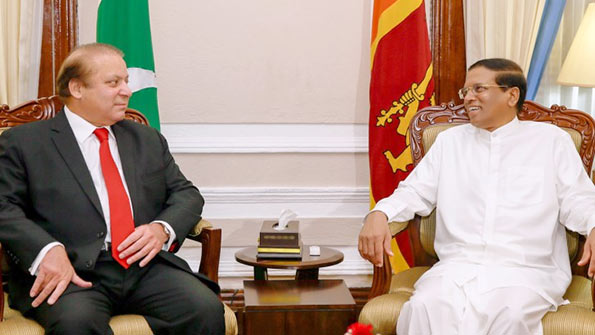 President Maithripala Sirisena can honorably be introduced as a leader with a genuine desire to take Sri Lanka forward as great country in the world, says Prime Minister of Pakistan Nawaz Sharif.
He commended the program by the President to bring about good governance by eliminating corruption and fraud.
Prime Minister Sharif who is on a two days official visit to Sri Lanka, made these remarks during the bilateral discussions with President Maithripala Sirisena at the Presidential Secretariat today (Jan. 05).
The Pakistani Prime Minister who arrived in the Presidential Secretariat was warmly welcomed by President Sirisena. A Guard of Honor was also held to welcome him. After the official welcome ceremony the two leaders held bilateral discussions.
President Sirisena, expressing his happiness over the visit of Pakistani Prime Minister, stated that this visit would further strengthen the lasting friendship between the two countries.
The two leaders discussed about further strengthening of the economic, commercial and cultural relationships between Sri Lanka and Pakistan. Prime Minister Sharif said that Pakistan is willing to strengthen relationships on services and investments in Sri Lanka.
Pakistan Prime Minister Nawaz Sharif pledged to provide assistance in producing rice and sugar to ensure food security in Sri Lanka.
The President also requested Pakistan Prime Minister to provide assistance in promoting dairy industry and cement industry of the country and the Premier has promised to provide necessary assistance and investments in this regard.
Discussions also held to exchange training programs for higher education and the field of sports between the two countries. Pakistan Prime Minister requested the service of Sri Lanka cricket Coaches for the Pakistan cricket team to further develop their team.
He also expressed his willingness to provide Pakistan Squash Coaches to develop the sport of Squash in the country.
Discussions were also held to conduct an exhibition in Pakistan in the near future to showcase Sri Lankan products and the two leaders agreed to further expand the cooperation between the two countries on the Gem and Jewellery industry.
Acceding to a request made by Prime Minister Sharif, President Sirisena said that in the future, he will make the necessary arrangements to gift Elephant to Pakistan.
The President also presented a proposal to celebrate Independence Days of Sri Lanka, Pakistan and India under a common program as these countries were received freedom from British rule.
The President wished every success to the SAARC Summit , which is to be held in Pakistan and said that he wished to attend the Summit.
(President's Media)