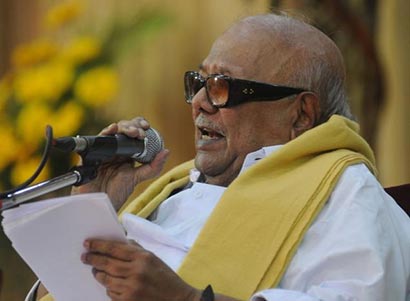 CHENNAI: DMK leader M Karunanidhi on Monday urged Prime Minister Modi to put pressure on the Sri Lankan government to release political prisoners as promised by President Maithripala Sirisena during the Presidential elections.
He said "The Sri Lankan government is breaking its promise in the matter of the release of the Tamil political prisoners. During the 2015 Presidential elections, Tamils overwhelmingly voted for Thiru Maithiripala Sriseana as he had promised that Tamil prisoners will be given general amnesty and released immediately after his swearing in."
Srisena went back on the promise given by him and released only 31 prisoners on conditional bail. The prisoners had refused to accept the conditional bail and gone back to the prison, he said, in a letter to Modi.
"More than 200 prisoners are now on a fast-unto-death struggle inside the prisons. Tamils have begun peaceful protests. On November 13 the entire Tamil-homeland consisting of the Northern and Eastern Provinces protested by observing a harthaal, responding to a call by all political parties of the Tamils including the TNA. All shops were closed. Schools did not function. Buses did not run. By breaking their promises, Sinhalese are pushing the Tamils to a struggle-mode, largely non-violent," Karunanidhi said.
"Tamil Nadu has been lobbying for the rights of the Sri Lankan Tamils through harthaals, processions, fasts, demonstrations and other passive methods, permissible in a democratic set-up. But the Government of India has not acted and remained a silent spectator, when Sinhalese successively abandoned their promises made to the Tamils and failed them. We, very early request that India should effectively intervene and prevail upon the Lankan Government to comprehend the urgent need to keep the promises made to the Tamils," he added.
(New Indian Express)