PETROL BOMB ATTACK ON SIYATHA TV, RADIO, SAYS MANAGER
Posted by Editor on July 30, 2010 - 6:58 am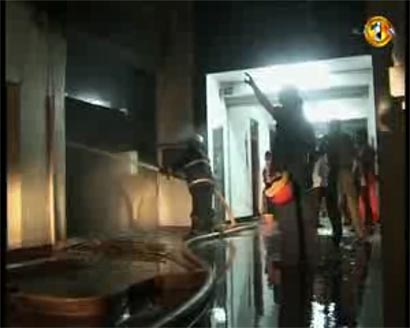 A fire has occurred in the voice of Asia media organization premises in Hunupitiya, Colombo which is carrying out Siyatha TV and Siyatha Radio.
The police noted that the incident had taken place around 1.20 this morning.
According to the Siyatha Radio Manager Udithamal Hemachandra the building in which the TV and Radio Channel are housed has been severely damaged.
He noted two of the employees who were injured in the incident have been admitted to the Colombo National Hospital.
"Around 1.20 this morning a person came in screaming when I went out to see who it was, he assaulted me. I held on to him thinking it was only he who was present. But afterwards I saw that their were around 12 people with him. All of a sudden they attacked this glass. Me and my colleague ran in at this moment. Then they started to attack the building we didn't know what to do. Five of them had guns while the others had pistols. Every one was armed. Then they lobbed Petrol bombs. We tried to come out. Then they threatened us and asked us to sit and wait. They assaulted us with guns. We were able to come out only after they all left," Manager said.
Newsfirst.lk
Latest Headlines in Sri Lanka