Pirates sink ship, Lankan crew feared dead
Posted by Editor on July 9, 2013 - 11:35 am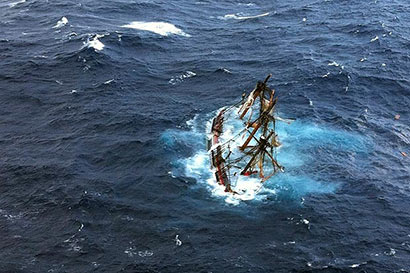 FILE PHOTO
After almost three years in the hands of pirates at an anchorage close to the Somali Coast, the Malaysian flagged freighter, MV Albedo, with the crew including six Sri Lankan, has sunk in rough seas, foreign media said.
The whereabouts of her 15 crew members is still to be confirmed as an EU Naval Force warship and a maritime patrol aircraft have closed off the surrounding area of sea and are carrying out a search and rescue operation for any survivors from the 15,566 dwt cargo ship.
The MV Albedo was en route to Mombasa, Kenya from Jebel Ali, Dubai when she and her crew of 23 sailors from Pakistan (7), Bangladesh (7), Sri Lanka (6), India (2) and Iran (1) were captured 900 nautical miles east of Mogadishu, Somalia, on November 26 2010. The seven Pakistani hostages, Captain Jawaid Saleem, Chief Officer Mujtaba, Third officer Raheel Anwar, Fourth Engineer Zulfiqar Ali, and sailors Kashif Naveed, Faqeer Mohammad Soomro, and Ahsan Islam, were set free in August 2012 following a payment of US$1.1 million.
Unfortunately, one Indian crew member, Raju Prasad, died on board the ship in July 2011 but the cause of death is still undetermined as varying reports suggest Prasad either died from cholera or was shot in the chest by the pirates following a heated phone conversation with the ship's Malaysian based Iranian owner. Local press interviews revealed the freed Pakistani sailors said on their release that they had been tortured by their captors, being locked in solitary confinement or all made to stand in an empty swimming pool for several days without food, water or any facilities. Some crewmen were beaten whilst phoning their families and one man had his hands mutilated with pliers.
(Courtesy: DM Online)
Latest Headlines in Sri Lanka