Plane crashes in Cuba killing more than 100, investigation underway
Posted by Editor on May 19, 2018 - 9:07 am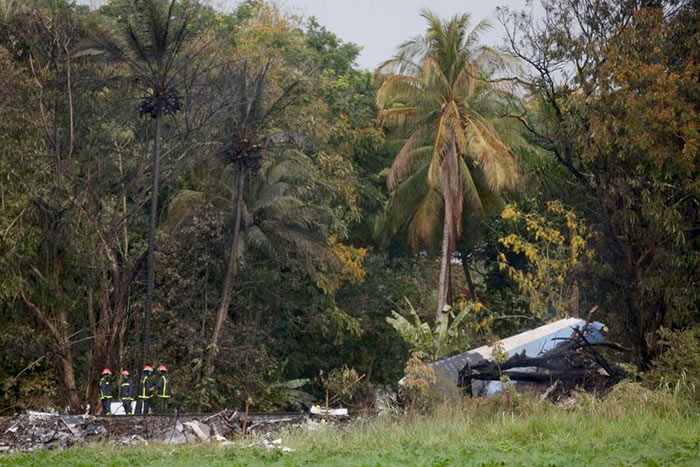 More than 100 people were killed when a Boeing 737 crashed soon after taking off from Havana in what appeared to be Cuba's worst air disaster in nearly 30 years, and there were only three survivors, officials and state media said on Friday.
The passenger plane, on a domestic flight to Holguin in eastern Cuba, crashed at 12:08 p.m. (1608 GMT). There were 105 passengers, including five children, plus crew members, state media reported.
Five of the passengers and the crew were foreign, according to media reports. Two Argentine citizens and an unspecified number of Mexicans were among the dead, the Argentine and Mexican governments said.
President Miguel Diaz-Canel said in broadcast comments that a high number of people appeared to have been killed. He said the fire from the crash had been extinguished and authorities were identifying bodies.
Diaz-Canel said authorities were investigating the cause of the crash.
Cuba declared an official period of mourning from 6 a.m. on May 19 to 12 p.m. on May 20, during which the flag would be flown at half-mast outside state and military institutions.
Former Cuban president Raul Castro, who now heads the country's ruling Communist Party, offered his condolences to the families of those who died in the crash as he recovered from a hernia operation, State media reported
This was the first time Cuba reported on a health issue for Castro, 86, who last month handed over the reins of power to his right-hand man Diaz-Canel.
Castro "who is recovering satisfactorily from a recent planned surgery to get rid of a hernia is staying up to date on the situation and has given the relevant guidance," the Communist Party newspaper Granma reported.
Blackened wreckage of Flight CU972 was strewn over the crash site, 20 km (12 miles) south of Havana.
"We heard an explosion and then saw a big cloud of smoke go up," said Gilberto Menendez, who runs a restaurant near the crash site in the agricultural area of Boyeros.
The flight's destination, Holguin, is the capital of a province popular with tourists for its pristine beaches.
Carlos Alberto Martinez, director of Havana's Calixto Garcia hospital, told Reuters that four victims of the crash had been were brought there and one died. Three others, all women, were in a serious condition, he said.
"She is alive but very burned and swollen," said one of the women's relatives at the hospital.
The Mexican transport department said on its website, "During take-off (the plane) apparently suffered a problem and dived to the ground."
The Boeing 737-201 aircraft was built in 1979 and leased by Cuban airline Cubana from a small Mexican company called Damojh, according to the Mexican government.
Damojh in Mexico said it did not immediately have any more information. Cubana declined to comment.
Mexico said it would send a team of investigators from its Directorate General of Civil Aeronautics on Saturday. Most aircraft accidents take months to investigate.
A U.S. State Department official said the agency was not aware of any request for U.S. assistance at this time, but the National Transportation Safety Board and Federal Aviation Administration had offered to assist in the investigation.
The State Department has spoken with the Cuban ambassador to offer condolences, the official said.
Boeing Co said in a statement that its technical team stood "ready to assist as permitted under U.S. law and at the direction of the U.S. National Transportation Safety Board and Cuban authorities." The United States has a decades-old trade embargo on the island.
Boeing 737 aircraft use engines made by CFM International, supplier of the world's most-used engines, built by a joint venture of GE and France's Safran.
On Thursday, Cuba's First Vice President Salvador Valdés Mesa met with Cubana bosses to discuss public complaints about its service, according to state-run media, including numerous cancellations of domestic flights this year and long delays.
Earlier this month, the company was ordered to suspend flights of its six Russian built AN-158 aircraft, of which most had reportedly already been grounded, according to state-run media.
The last fatal crash in Cuba was in 2017, the Aviation Safety Network said. It was a military flight and all eight on board were killed. In 2010, a commercial Aero Caribbean plane crashed in central Cuba and all 68 people on board were killed.
In the worst Cubana disaster, a Soviet-made Ilyushin-62M passenger plane crashed near Havana in 1989 killing all 126 people on board.
(Reuters)
Latest Headlines in Sri Lanka