POLICE BLOCK ALL ROADS TO SANCHI TO PREVENT VAIKO MEN
Posted by Editor on September 21, 2012 - 12:38 pm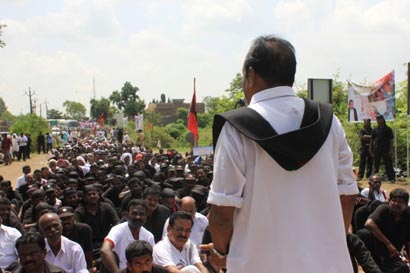 Onlanka News – by Walter Jayawardhana
The Madhya Pradesh police took unprecedented security measures in view of President Rajapaksa's visit  to Sanchi to lay a foundation stone for a new university for Buddhist and Indic studies when it closed all roads to Sanchi to prevent MDMK party followers from reaching there to hold a black flag protest against the visiting Sri Lankan President.
Party leader Vaiko and nearly thousand followers who came in 41 buses from Chennai were stopped at the Madhya Pradesh border and many including the leader were holding a sit in protest barricading a public road. Vaiko who has been extremely loyal to the Sri Lankan terrorist
Group LTTE is accusing Mahinda Rajapaksa of genocide of Sri Lankan Tamils.
The Madya |Pradesh police has barricaded the road connecting Vidisha-Sanchi and Bhopal-Sanchi from both ends and were not allowing movement of the public transport. The same arrangement has been put in place on the other routes connecting Sanchi. Private vehicles were checked thoroughly before being allowed to move till Wednesday evening.
A report said buses and trucks plying on Bhopal-Vidisha route were diverted through Raisen on Thursday. The same arrangement would continue on Friday till the programme in Sanchi is over. More than 35 buses ply on the Bhopal-Sanchi route daily. "The police have blocked the road and diverted buses from Raisen side," said bus operator Shyam Sundar Sharma. "The move is likely to affect close to 2,500 commuters on the route," he was quoted having told the Times of India.
The police were tightlipped and did not comment on why the routes were blocked.
State home minister Uma Shanker denied that the routes were blocked. "The routes will be closed on Friday during the programme," he said.
Half-a-dozen IPS officers and hundreds of policemen have been deployed to ensure security for the event. A policeman would be deployed at a distance of every 15m on the Bhopal-Sanchi road, the police said.
Eleven trains on the Bhopal-Vidisha route have been ordered not to halt along the way on Friday for security reasons in view of the visit. "We received a request from the Raisen collector asking us not to halt trains between the two stations due to security threat to Rajapaksa," a railway official said.
He said Sanchi-bound passengers, who get down at Bhopal and Vidisha, would be refunded their remaining journey fares according to rules.
In Bhopal, the police have thrown a massive security cover particularly around the airport to stop MDMK cadres from entering the city.
The search operations for MDMK supporters hiding in the city continued till late on Thursday night. Tight vigil is also being maintained at the railway and bus stations.
MDMK chief A M K Vaiko continued his sit-in fast for the second day on Thursday at Bad Chicholi in Madhya Pradesh's Chhindwara district to protest Rajapaksa's visit. Vaiko and his  supporters were stopped there on Wednesday evening minutes after they entered MP from Nagpur and tried to head for Sanchi.
He said the state's BJP government had betrayed him. "This government doesn't believe in democratic way of protest. I was going to Sanchi to protest peacefully," he told reporters. Vaiko said he had informed CM Shivraj Singh Chouhan about his peaceful protest and sentiments of the Tamil people before leaving Tamil Nadu. "It is disturbing that I have been stopped. On one hand Madhya Pradesh Chief Minister is welcoming me with flowers at the state border but not allowing me to move from here."
Latest Headlines in Sri Lanka