50 KM AWAY VAIKO WAVES BLACK FLAG FROM A BALCONY WHERE HE WAS ARRESTED
Posted by Editor on September 22, 2012 - 9:25 am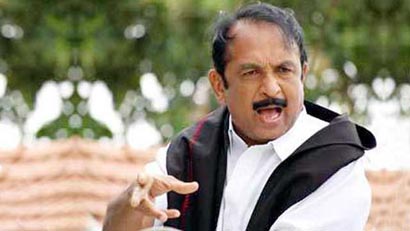 Onlanka News – by Walter Jayawardhana
Marumalarchi Dravida Munnetra Kazagam outfit's leader Vaiko and 750 odd party workers were arrested by Madhya |Pradesh police as the South Indian rabble rouser's followers were burning effigies of Mahinda Rajapaksa and waving black flags outside a Dharmasala a guest house where they were detained for two dates for trying to disrupt peace on the Madhya Pradesh border..
The black flag demonstration took place about 50 kilometers from the venue Saranath deliberately to synchronize with the laying of the foundation by the Sri Lankan President  as  none of these picketers could reach as all roads had been very tightly blocked by the Madhya Pradesh police. Saranath was the original location Vaiko planned his demonstration originally.
"Vaiko has been arrested along with nearly 750 supporters. They have been booked under 151 of Criminal Procedure Code (disrupting peace)," Inspector General (Jabalpur Range) Madhu Kumar said.
Former MP C Krishnan who has been camping in Bhopal alongwith Vaiko's secretary, A S Pandian for the past ten days, said the BJP government has "herded the MDMK activists like cattle and detained them in the Dharmashala, a guest house to prevent them from exercising their democractic right to protest both at Bhopal airport where Rajapaksa flew in from Delhi as well as in Sanchi. Among those who participated in the protest was J Jebaraj, chairman of Imayam TV from Chennai, a Vaiko supporter. An estimated 400 MDMK activists stood on two balconies of the guest house waving black flags and shouting slogans against Rajapaksa as the effigy was burnt. DySP AArvind Khare said the activists had been a royal time with good food and would be released after a sumptuous lunch.
Mr. Rajapaksa on Friday laid the foundation stone for Sanchi University of Buddhist and Indic Studies, about 45 km from Bhopal. Besides him, Bhutan Prime Minister Jigme Y Thinley along with Madhya Pradesh Governor Ram Naresh Yadav and Chief Minister Shivraj Singh Chouhan were also present during the ceremony.
Latest Headlines in Sri Lanka