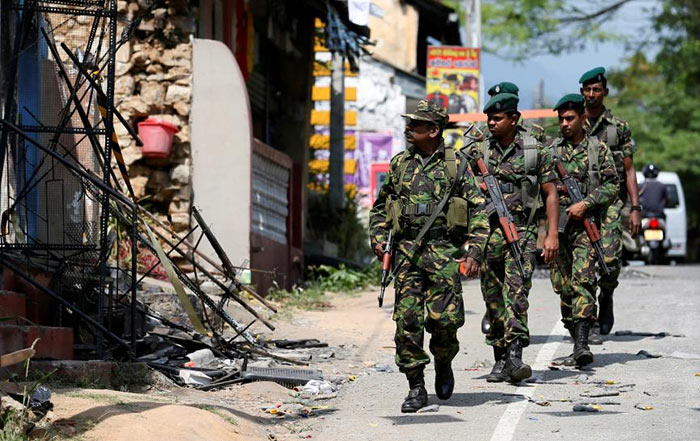 Vandals attacked a Muslim-owned restaurant in Sri Lanka on Sunday in an alleged "hate crime", police said, as tensions remain high across the island following a week of violent riots.
The restaurant in Anamaduwa — 130km north of the capital Colombo — was targeted despite police being on high alert after a spate of anti-Muslim attacks.
The government declared a state of emergency last week as 11 mosques were torched and 200 Muslim-owned businesses destroyed in riots by Sinhalese mobs that left at least three people dead and around 20 wounded.
A curfew was lifted in the central district of Kandy, the epicentre of the violence, but soldiers remained on the streets, equipped with emergency powers to detain people to maintain law and order.
Some social media networks including Facebook remain blocked across Sri Lanka. Officials say this was done to prevent the spread of hate speech against Muslims.
A senior police official said disciplinary action would be taken against officers in the Anamaduwa area for failing to prevent the restaurant attack.
"We are treating this as a hate crime. An investigation is on to identify those responsible," he told AFP on condition of anonymity.
President Maithripala Sirisena announced Saturday that he will appoint a three-member panel of retired judges to investigate the unrest that drew concern from rights groups and the international community.
Police were deployed to mosques across Sri Lanka on Friday to guard worshippers from the island's minority Muslim community during weekly prayers. There were no reports of violence.
Muslims make up 10 per cent of Sri Lanka's 21 million people. The majority are Sinhalese, a largely Buddhist ethnic group.
Hundreds of Buddhist monks and activists staged demonstrations in Colombo Friday, denouncing violence and urging authorities to punish those responsible.
Police said nearly 150 people were arrested over the violence, including the suspected leader Amith Weerasinghe, a Sinhalese man known for anti-Muslim activism and outspoken social media posts.
(Source: AFP)