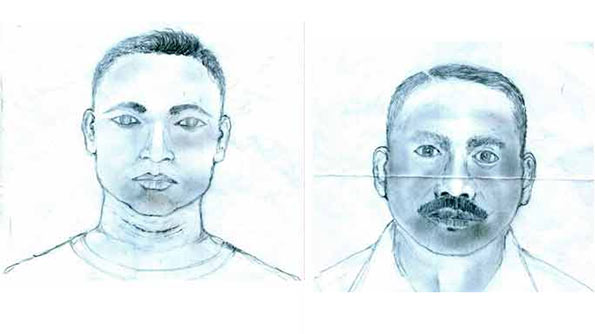 Police today released sketches of two persons who are suspected to be involved in the assassination of senior journalist Lasantha Wickrematunge in 2009. Police are looking for public assistance to track down the alleged assailants.
Police said one suspect was about 35-years old, 5'8 with wide brown eyes and a stocky build. The second suspect was about 40-years old, 5'10 with a dark complexion.
Police said the sketches were drawn by the sketch artist based on descriptions given by witnesses at the crime scene.
Police have requested the public to contact the below mentioned numbers to give any information regarding the suspects:
0718591753, 0718591770 and 0773291500
Mr. Wickrematunge was shot in the head at Atthidiya in Dehiwala on January 08, 2009, by two gunmen on a motorbike.