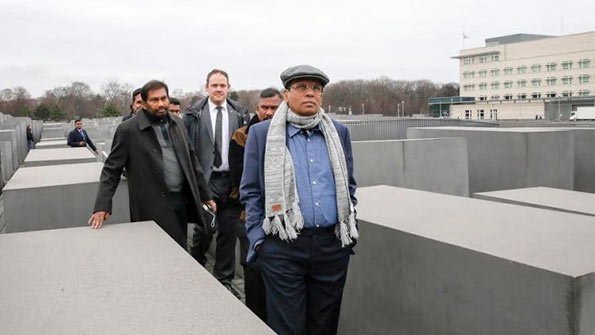 President Maithripala Sirisena who arrived in Berlin yesterday morning (Feb. 16) visited the Holocaust Memorial and the Jewish museum in the evening.
The Holocaust Memorial in Berlin has been built to memorize the Jewish victims of the Holocaust. This, which has been designed by architect Peter Eisenman and engineer Buro Happold holds the names of approximately 3 million Jewish Holocaust victims.
The Building began on April 1, 2003, and was finished on December 15, 2004. It was inaugurated on May 10, 2005, sixty years after the end of World War II, and opened to the public two days later.
Ministers Ravi Karunanayake, Daya Gamage, Malik Samarawickrama and Mahinda Samarasinge also joined the President in this visit.
(President's Media)