Police to crack foreign links in 'Ava' gang
Posted by Editor on August 9, 2017 - 10:16 am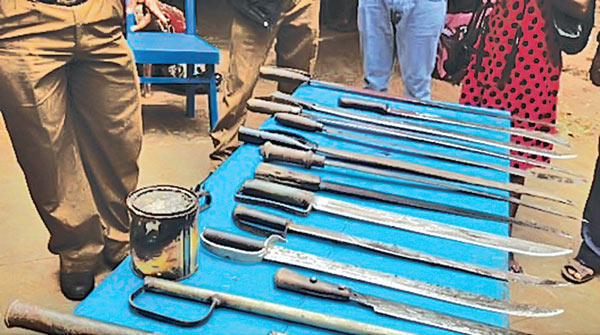 Police are now carrying out investigations to uncover possible foreign links to the criminal gang 'Ava group,' Police spokesperson SP Ruwan Gunasekara said yesterday.
Gunasekara said investigations are being conducted to ascertain information regarding individuals as well as groups funding or operating the Ava gang locally and internationally.
"Intelligence agencies will also be consulted to cross check if the suspects had past links to the LTTE," SP Gunasekara said.
Police and the Police Special Task Force have been cracking down on Ava group members during the past week. "The TID is also carrying out separate investigations into the incidents," Gunasekara said Police will not allow for the functioning of any such groups in the country.
Meanwhile following the arrests made this week, the Terrorism Investigation Division (TID) have recovered three swords, a knife, a motorcycle and a foreign manufactured live hand grenade.
SP Gunasekara said no firearms were discovered during the investigations.
The main suspect, Sathyavel Nathan Nishanthan, alias "Nisha Victor," identified as the leader of the Ava group is wanted in connection to a number of cases in the Jaffna area. The six arrested suspects are currently being held in Jaffna Police custody and are being further questioned.
Two police constables engaged in field duty in Kopay were attacked on July 30 with swords by a group of fourteen men on motorcycles who were suspected to be members of the 'Ava Gang' resulting in the severe crackdown on the group by the Police and STF in the past week.
(Source: Daily News – By Maneshka Borham)
Latest Headlines in Sri Lanka