POLITICIANS SHOULD HAVE PROPER UNDERSTANDING OF REAL PROBLEMS: BUDDHIKA
Posted by Editor on April 4, 2011 - 1:39 pm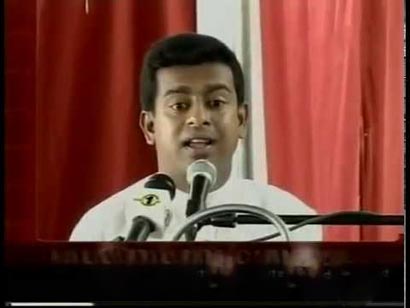 Politicians should have a proper understanding of the real problems in the country, says parliamentarian Buddhika Pathirana, United National Party.
buddhikaThe MP made this statement at a meeting held at the Rahula Vidyalaya in Matara yesterday.
The parents meeting of students following courses of the Samadhi Community Development Foundation, was held yesterday under the patronage of UNP MP Buddhika Pathirana.
The Capital Maharaja Organization is the main sponsor of the Samadhi Community Development Foundation.
"It is on very few instances that a revolt arising in the country can be suppressed through weapons. There is only one method for it. The only way is to create an environment where these children can join the corporate world according to their talents. If such an environment is not created, then these children will think that politicians weave various attractive stories only during elections. They talk about democracy. But it is not democracy that we finally receive but deception or lies," said Buddhika.
Courtesy: News First
Latest Headlines in Sri Lanka