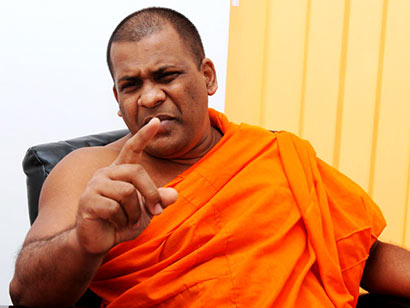 Bodu Bala Sena Leader Ven.Galagoda Aththe Gnanasara Thera said Pope Francis should apologise to Sri Lankan Buddhists over the alleged atrocities committed by Christian colonialists.
"Previous Popes have publicly apologised to certain countries because they destroyed, they killed. We had a similar situation, where most of the Buddhist temples were destroyed by them and Buddhist monks were killed. We would like to see a  public apology from him," Gnanasara Thera told a meeting with foreign correspondents in Colombo.
"We are waiting till the Pope comes to see what he is going to say about the crimes here," the Thera said adding that "The Portuguese, Dutch and the British are all the same to us.
The Pope is expected to visit the Philippines and Sri Lanka in January.
(Daily Mirror)