Pothas slams 'embarrassing' Sri Lanka after worst Test defeat
Posted by Editor on November 28, 2017 - 8:04 am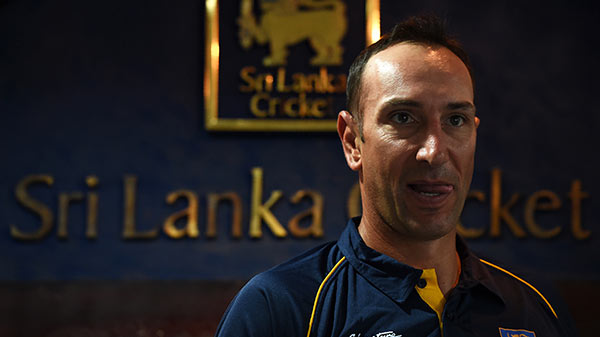 Sri Lanka coach Nic Pothas warned his players there would be "repercussions" after the country's worst-ever Test defeat, at the hands of India on Monday.
The South African could barely contain his anger after Sri Lanka lost the second Test by an innings and 239 runs in four days in Nagpur.
"It's embarrassing, players should be embarrassed in their own performances. Practising in the nets means nothing if you do not go out and put runs on the board," Pothas said.
"As a player your currency is runs, wickets and catches. You can do all you like but if you are not producing them, obviously there will be repercussions. That's the world of professional sport."
Sri Lanka's previous worst Test defeat was an innings and 229-run loss to South Africa in 2001.
Sri Lanka won the toss and chose to bat against India in Nagpur but were skittled out for 205 on the opening day.
They crashed out for 166 in the second innings as India wrapped up victory in four days.
Pothas, who took over as coach after Graham Ford's abrupt exit this year, highlighted the Indian squad's depth in bowling and batting.
"If you are going to be successful at the top of any sport your bench is important and India has a very strong bench," said Pothas.
"Not only have they got pace but a huge amount of skill. Same with batting and bowling: it's all about execution," he added.
Sri Lanka lost all nine Tests, one-day and T20 games at home to India in a recent series but followed that up by winning two Tests against Pakistan in the United Arab Emirates.
"Personally as a coach I find it hugely exciting, I've learnt a lot in the last series and in the short time we have been here, and continue to learn more," Pothas said of the current tour of India.
"Cricket is a game of chess. When you play a team like India, if one team makes a move you better have a counter move, if you don't you will fall off that bus.
"At the moment we have got a few in our changing room who keep making the same move and losing pieces off the chess board."
(AFP)
Latest Headlines in Sri Lanka