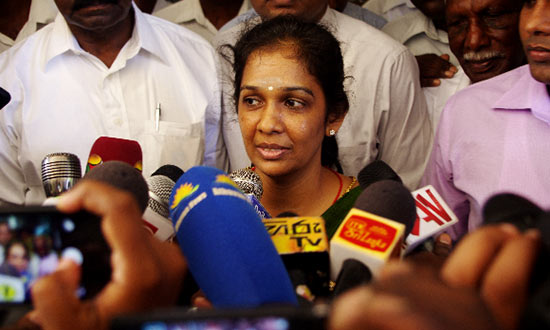 If LTTE leader Prabhakaran had been living today he could have become the Prime Minister of the country, said the State Minister of Child Affairs, Vijayakala Maheswaran.
She said so during a ceremony at the Kilinochchi District Secretariat to grant compensation to the Kilinochchi General Market stall holders whose stalls were gutted in September.
"The Vadamarachchi area was renowned for Education. LTTE leader Prabhakaran, was from Valvettithurai. Compared to all of our presidents none could hold a candle to Prabhakaran's leadership," she said.
"If he had been living today, he could have been the Prime Minister or a Parliamentarian. It is our bad luck. Some politicians here say that the destruction started by Premier Ranil Wickremesinghe was ended by Mahinda Rajapaksa.
If our talk involves racialism in this manner we may be deprived of what we are entitled to. Instead of talking we must understand what we can get and what we cannot get out of this government of Good Governance and act accordingly," she said.
"Whether it is in the North or the South if we talk racism, it is our generation that will be affected. In this government of Good Governance only good things are happening," she said.
(Source: Daily Mirror – By S.N. Nibojan)