President and PM get tough on VAT enforcement
Posted by Editor on July 7, 2016 - 7:01 am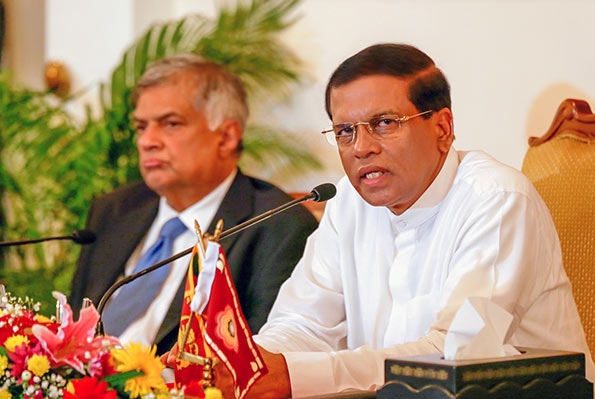 Under fire from rapidly increasing prices, the President and Prime Minister plan to cut costs on essential goods through a combination of efforts including appointing a special ministerial committee, gazetting fresh price controls on 10 foods and deploying 1,500 officials to enforce controls countrywide.
The steep rise in prices of basic fruits and vegetables had come under discussion at the Cabinet meeting this week with both President Maithripala Sirisena and Prime Minister Ranil Wickremesinghe insisting that stronger measures have to be taken to crack down on artificially increased prices.
Parliamentary Affairs and Mass Media Minister Gayantha Karunathilake and State Enterprise Development Deputy Minister Eran Wickramaratne told reporters that the Government would roll out a slew of measures to protect consumers in the coming weeks and deploy 1,500 officials from the Finance Ministry, provincial offices, police and even army to enforce acceptable prices. The Government will also launch a new hotline for consumers to complain about dishonest traders, the ministers said.
"We have received complaints from around the country of errant traders and businessmen wrongfully using the recent increase in VAT to hike up prices of staples. This is entirely false because many essential food items and services are exempt from VAT but since consumers are not aware of this they are being overcharged," Deputy Minister Wickramaratne said.
Under the new proposals a special ministerial committee made up of the President, Prime Minister, Finance Minister, Fisheries Ministers and others will meet "daily if necessary" to initiate steps to reduce costs. Among the latest proposals is the decision to put price controls on 10 essential food items that are not covered by the Consumer Affairs Authority (CAA) powers, which are expected to be gazetted in the next four days, Karunathilake said.
With the assistance of the media the Government aims to publish twice-weekly wholesale and retail lists of essential items so consumers will be aware of the correct prices. The Government will also release a full list of goods and services that are VAT exempt to educate the public and even launch a poster campaign to educate the masses.
However, Wickramaratne ruled out any Government plans to adjust the existing VAT structure insisting it was a "progressive system used by 160 countries worldwide." President Maithripala Sirisena this week met with Inland Revenue Department officials to discuss the existing VAT structure, fuelling speculation that he would intervene to adjust it. However, reports indicated that the meeting had ended inconclusively.
"Change is hard for everyone. What we are experiencing now are teething problems, which the Government completely understands. This is why we will not be implementing VAT very strictly till the end of the year. But at the end of the year we will do an evaluation before deciding if any changes are needed," Wickramaratne said. He also defended the recent tax hikes pointing out that Government revenue needed to be improved to bridge Budget deficits and keep macroeconomic fundamentals stable for investment.
The Government implementation of 'deemed VAT' for transactions done with a non-VAT paying party, would also be implemented soon, the Deputy Minister said.
Under the new VAT regulations introduced by the Government in May, all businesses that earn more than Rs. 1 million a month or Rs. 3 million per quarter must be registered to pay VAT. However, those companies registered to pay VAT have to do business with smaller businesses that make less than Rs. 1 million per month and therefore do not have to pay VAT. Under the new system the non-VAT party can issue an invoice saying no VAT is applicable and the VAT paying party can enter the transaction, which the Government will consider as VAT paid or 'deemed VAT'.
Cabinet spokesman and Health Minister Dr. Rajitha Senaratne also pointed out that OPD expenses at private hospitals have been exempted from VAT and consumers should refuse to pay unfair charges.
(Source: FT.LK – By Uditha Jayasinghe)
Latest Headlines in Sri Lanka