President Appoints Members to Commission to Investigate Missing Persons
Posted by Editor on August 15, 2013 - 8:28 am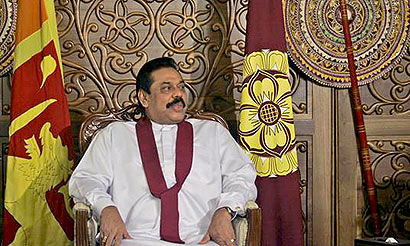 President Mahinda Rajapaksa has appointed the following members to the Commission tasked with investigating cases of persons from the Northern and Eastern Provinces who went missing during the war:
1. Mr. Maxwell Parakrama Paranagama Esquire (Chairman)
2. Madam Dimingu Badathuruge Priyanthi Suranjana Vidyaratne
3. Madam Mano Ramanathan
The Commission has been given the authority to conduct inquiries and investigations necessary, and submit a report to the President within six months. In President Rajapaksa's instructions to the Commission, he stressed the necessity to identify the person(s) responsible in cases where abductions or disappearances are found to have taken place and to take legal action against those person(s).
The President indicated that the inquiries are being conducted in the interest of public security and wellbeing and in order to determine what measures should be taken to prevent such incidents from occurring in the future.
President Rajapaksa has also directed all public officers and other relevant persons to provide their full support and assistance to the Commission to carry out the work.
(Courtesy: President Media)
Latest Headlines in Sri Lanka