President arrives in London for Queen's Diamond Jubilee celebrations
Posted by Editor on June 5, 2012 - 8:27 am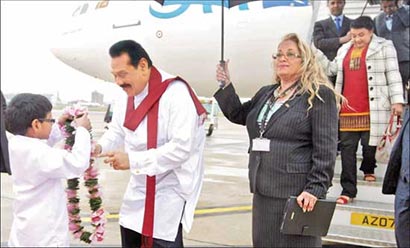 President Mahinda Rajapaksa and First Lady Shiranthi Rajapaksa arrived in London yesterday to attend the Diamond Jubilee celebrations of Queen Elizabeth 11.
President Rajapaksa and the First Lady will attend a reception and a concert at Buckingham Palace, Service of Thanksgiving at St Paul's Cathedral, a reception at Guildhall and a lunch hosted by Commonwealth Secretary General Kamlesh Sharma in honour of the Queen.
President Rajapaksa will make a special address at the Commonwealth Economic Forum organised by the Commonwealth Business Council and the City of London.
In the Vatican, President Rajapaksa and the First Lady will have an audience with His Holiness the Pope. President Rajapaksa will have a one-to-one meeting with the Pope at the Papal Library.
While in Rome, President Rajapaksa will participate in Vesak celebrations organised by the Sri Lankan embassy in Rome at the FAO headqaurters.
Courtesy: Daily News
Latest Headlines in Sri Lanka