THE INDIAN ARTIST WHO WANTS TO RECREATE THE PAST GLORY OF BUDDHISM
Posted by Editor on June 4, 2012 - 6:54 pm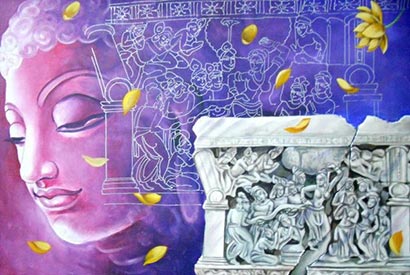 Onlanka News – By Walter Jayawardhana
Amarvati is one of the greatest Buddhist civilizations in India. Mallikarjuna Rao is a Buddhist artist who has been inspired by it. He wants to be part of the great revival of Buddhism currently taking place in the country.
His exhibition of paintings has been named , " A Tribute To Amaravati Glory." Although all the paintings have been sold the new owners have agreed to continue the exhibition going round the country. The money earned out of the sales has been donated to Dhyan Buddha project of Amaravatiin Guntur district.
"The rich cultural heritage of Amaravati has gained international recognition for being the birthplace of ancient Indian art and sculpture. Recreating the glory of Amaravati on canvas with the help of acrylic colours, Joint Director of the Social Welfare department Regulla Mallikarjuna Rao has conducted a four-day exhibition at the Ambedkar Bhavan here," in the city of Kakinada said the Hindu .
It further said, "As the rulers of Amaravati, the Andhra Satavahanas, were the followers of Buddhism, the sculptures of Amaravati depict the rich literature of Buddhism, its symbols, images, its deities and spirits. A connoisseur of Buddhist art and sculpture, Mr. Mallikarjuna Rao recreated the emblems of sovereignty, mythical animals, ornaments of men and women, chariots and weapons of war, furniture, utensils, and musical instruments. One can see how Buddhism flourished in Amaravati and how rich the culture of Satavahanas was by going through the paintings of Mr. Mallikarjuna Rao."
A report said, . Beginning with Salarjung Museum at Hyderabad the exhibition has been conducted so far in Visakhapatnam, Guntur, Chennai and Bangalore and plans are afoot to conduct the same in London, where the remains of Amaravati sculpture were preserved in the prestigious London Museum by the British.
"It is an attempt at making people understand the past glory of Buddhism and Amaravati as well. That is why I have given the title 'A Tribute to Amaravathi Glory' to this exhibition,' he says.
Latest Headlines in Sri Lanka