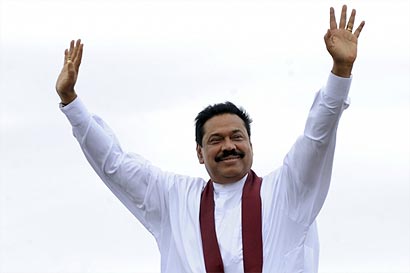 NEW YORK: President Mahinda Rajapaksa arrived in New York City yesterday (22 – NY time) afternoon on the occasion of the United Nations General Assembly (UNGA) that is taking place this week.
President Rajapaksa and First Lady Shiranthi Wickremasinghe Rajapaksa were welcomed by the Permanent Representative of Sri Lanka to the United Nations Dr. Palitha Kohona, Sri Lanka's Ambassador to the United States Mr. Prasad Kariyawasam, the Deputy Permanent Representative Maj. Gen. Shavendra Silva and staff members of the Permanent Mission of Sri Lanka to the United Nations.
In addition to the 69th session of the U.N. General Assembly, the President is also expected to participate in several other major international events that are taking place this week, including the Climate Summit 2014, the Annual Meeting of the Clinton Global Initiative and a meeting with Commonwealth Heads of Government.
President Rajapaksa is scheduled to deliver the national statement at the Climate Summit on Tuesday, Sept. 23, and deliver his speech at the UNGA on Wednesday, Sept. 24. It will be the President's seventh address to the General Assembly.
Minister of External Affairs Prof. G.L. Peiris, Minister of Irrigation and Water Resources Management Mr. Nimal Siripala de Silva, Minister of Environment and Renewable Energy Mr. Susil Premajayantha, Deputy Minister of Water Supply and Drainage Mrs. Nirupama Rajapaksa, Monitoring MP of the Ministry of External Affairs Mr. Sajin de Vass Gunawardena, Members of Parliament Mr. J.R.P. Suriyapperuma, Mr. A.H.M. Azwer and Mr. Neranjan Wickremasinghe, Chief Minister of the Central Province Mr. Sarath Ekanayake, Secretary to the President Mr. Lalith Weeratunga, Secretary to the Ministry of External Affairs Mrs. Kshenuka Senewiratne, Secretary Ministry of Civil Aviation Dr. T.R.C. Ruberu and the Director of the Climate Change Secretariat (Ministry of Environment and Renewable Energy) Dr. Sunimal Jayathunga are accompanying the President. Dr. Kohona, Ambassador Kariyawasam and Maj. Gen. Silva will also accompany the President at official events.
(News.lk)