President emphasized need of a national policy on building construction industry
Posted by Editor on January 10, 2017 - 7:29 am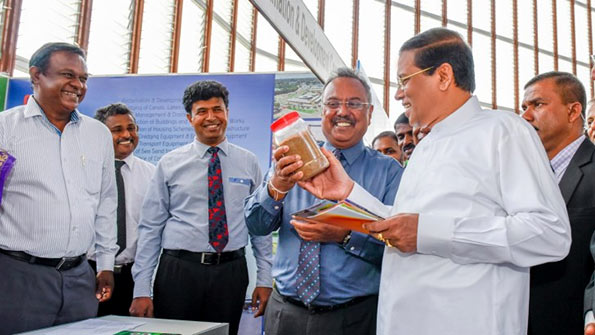 President Maithripala Sirisena emphasized the need of a national policy on the construction of buildings in both the state and private sectors.
He made these remarks participating in the launching ceremony of the Green Building Code and Evaluation System held at the BMICH, yesterday (09).
Our country as a small island nation, has to face many challenges due to the rapid increase in human population, the President said, adding that many challenges have emerged due to the lack of a national policy on housing construction.
When considering this situation, in another 25-30 years we have to face the agriculture sector challenges too, as a result of limitations of land intended for cultivation purposes, the President pointed out. All of us must unite to fulfill respective duties and responsibilities for the existence of all the living creatures including humans as well as the nature.
As the first phase of the program for the greenization of the building sector in Sri Lanka from 2017 to maintain the buildings in the government sector as eco-friendly buildings, the green building guide and the green evaluation programmes have been formed by the Mahaweli Development and Environment Ministry and the Urban Development Authority, under the guidance of the Presidential Secretariat.
These publications were presented to the President by the Secretary of the Ministry of Mahaweli Development and Environment Udaya R. Seneviratne and the Secretary to the Ministry of Megapolis and Western Development Nihal Rupasinghe.
President Sirisena launched the website relevant to the new green concept.
He stated that the engineers and the specialists in the building sector are responsible to make this program success, through making a proper awareness among the people.
Ministers Patali Champika Ranawaka and Arjuna Ranatunga also participated in this event.
(President's Media)
Latest Headlines in Sri Lanka