President holds bilateral discussions with several leaders during UN Summit
Posted by Editor on September 26, 2015 - 7:54 pm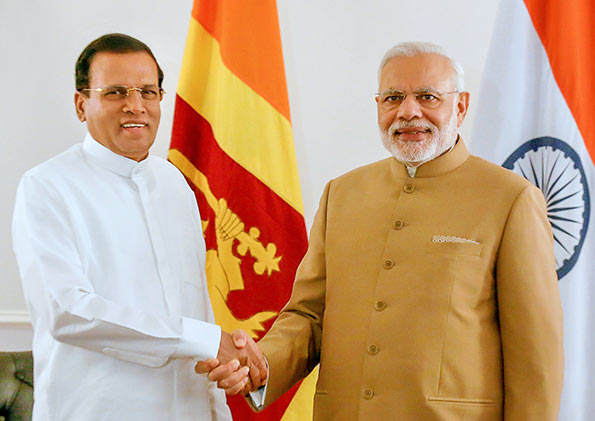 President Maithripala Sirisena currently in New York to attend the 70th UN Summit met with Indian Prime Minister Narendra Modi yesterday (25) on the sidelines of the Summit.
During discussions with Indian Prime Minister, President Sirisena as the current Commonwealth Chair- in- Office extended an official invitation to the Indian Prime Minister to participate in the next Commonwealth Heads of Government Meeting will be held in Malta.
Sri Lanka, Indian leaders discussed regarding the issues related to how to boost the progress of SAARC cooperation and the Indian Prime Minister conveyed his best wishes for President on his victory in recently concluded elections.
The Indian Prime Minister pledge to provide their fullest cooperation to make success future plans of the Sri Lankan Government.
The President also held discussions with the Switzerland President Simonetta Sommaruga. The Swiss President told President Sirisena that many Sri Lankans living in Switzerland at present and said that the Swiss government expects to further strengthen relationship with them as well as to provide the Government of Switzerland assistance to development works in Sri Lanka.
President Sirisena expressed his thanks to the Swiss Government for their support and said that the Government of Sri Lanka too expects the assistance of Swiss government for their future plans implement through the new constitutional change.
President Maithripala Sirisena apprised the Swiss President regarding the North East development and said that the Government of Sri Lanka expects the assistance of the Swiss Government in this regard.
Following that, the President Sirisena also met with the President of ICRC Peter Maurer. The President appreciated the service rendered by the ICRC till today and said that the Government expects their service in the future too.
Mr. Peter Maurer said that the ICRC conducted many humanitarian services in the North and the East during the conflict and further said that even though they left those areas they are committed to provide their support to people in the North and the East.
The President of the ICRC said that he is very satisfied with the works done by the new government and he believes that the government will move forward minimizing existed weakness. The President said that already his government has taken steps in this regard.
A Sri Lankan delegation including Foreign Minister Mangala Samaraweera participated in the discussions.
(President's Media)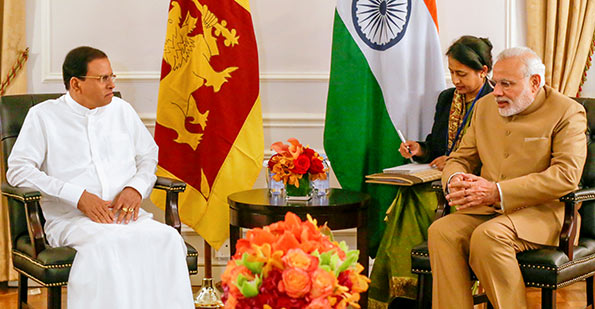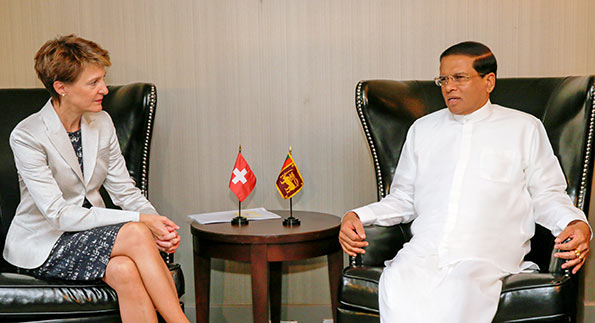 Latest Headlines in Sri Lanka