President inspects Beruwala and Aluthgama reconstruction work
Posted by Editor on July 1, 2014 - 8:04 am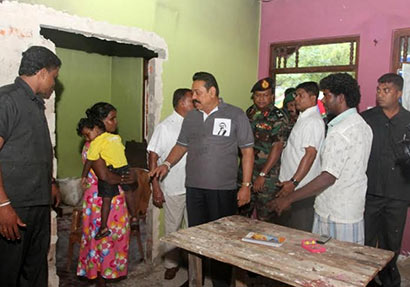 President Mahinda Rajapaksa made an inspection tour to Beruwala and Aluthgama areas to inspect rebuilding and renovation of areas affected by the recent clashes in Aluthgama and Beruwala which are being successfully carried out under guidance of Sri Lanka Army.
The President met Sinhala and Muslim communities in Pathirajawela, Darga Town, Warapitiya, Seenawatta, Aluthgama and several other areas. President also went to the Kande Viharaya and engaged in religious observances and had a mutual discussion with chief incumbent of the Viharaya Venerable Batuwanhene Buddharakkitha Thero.
The President also engaged in conversation with the devotees who had gathered at the temple. Ministers Rajitha Senarathne and Rohitha Abeygunawardena and Major General Ubhaya Medawela were also present at this moment.
(Government News Portal)
Latest Headlines in Sri Lanka