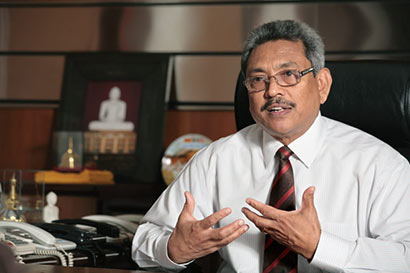 Secretary to the Ministry of Defence and Urban Development Gotabaya Rajapaksa on Monday has denied any involvement with the Bodu Bala Sena (BBS), or any fringe organizations as alleged.
Speaking to the Daily Mirror during an exclusive interview Rajapaksa has asserted that he would resign from his post if any connection with these organizations was proved.
"I have nothing to do with the BBS. I have not at all been involved in any of this. All this is because of baseless accusations, and I will always say that some Muslim politicians and opposition politicians have put the blame on me. At the end the media has also done that. What facts do they have to say that? It's very unfortunate that people write such baseless factless articles that are very wrong. Because of these the international media believes they are true" he said.
"I will give up this post if they can prove this. I will leave this post if they can prove that I have any connection with any of these organizations. I am not afraid to say that I am a Buddhist. I am not afraid to say that there are issues that are harmful to the sentiments of the people. But I don't condone violence. I don't say that violence is the solution to this. I am not afraid to say that there are issues for the Sinhalese. Not only for the Sinhalese but even the Tamils have issues. If you specifically speak about the Muslim community not only the Sinhalese Buddhists, but the Sinhalese Catholics also have certain issues with them. In Mannar there are no Sinhalese but there are issues between the Muslims and the Tamil Catholics. What about the Tamils in Batticaloa? They have issues. What about the Catholics in Wattala and Ja-ela who have brought these issues to me. This is why I believe that we have to talk to the Muslims. I am currently conducting a wide ranging dialogue with them. Moderate Muslims have told me that they have issues with certain extreme elements of the Muslim community." he has said.
In reply to a question asked as to whether he will be coming into politics, he has said If the President invites me I will definitely come and I assure you that I can do much better than many of these politicians currently holding office.
(Ceylon Today)