President Invites Wigneswaran to Join Delegation to India for Modi's Swearing-in Ceremony
Posted by Editor on May 23, 2014 - 2:53 pm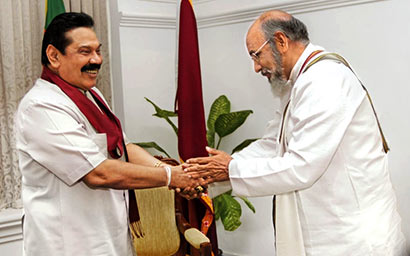 President Mahinda Rajapaksa has extended an invitation to the Chief Minister of the Northern Provincial Council Justice C.V. Wigneswaran to join the Presidential Delegation to attend the ceremony at which the Oath of Office to India's Prime Minister-designate Mr. Narendra Modi will be administered.
This ceremony will take place Monday (May 26) evening in New Delhi. President Rajapaksa received an invitation earlier this week to participate in this event.
President Rajapaksa's attendance was formally confirmed yesterday (May 22) through diplomatic channels and also via the President's official Twitter account (@PresRajapaka) this morning: "Thank you for the invitation to attend your swearing-in ceremony. I look forward to being there."
The President was one of the first world leaders to call Mr. Modi to congratulate him on his party's landslide victory earlier this month. Soon after the call, Mr. Modi responded with a tweet to thank President Rajapaksa for his call: "It was wonderful speaking to you earlier today. I look forward to strong relations between Sri Lanka & India."
In the phone call to Mr. Modi, President Rajapaksa expressed that the Government looks forward to working with the new administration to further strengthen relations between the two countries.
(President Media)
Latest Headlines in Sri Lanka