President launches sixth Deyata Kirula exhibition in Anuradhapura: Deyata Kirula aims at rural development
Posted by Editor on February 6, 2012 - 7:40 am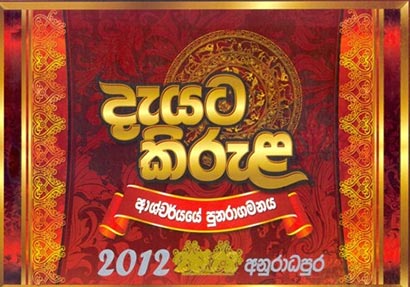 The Deyata Kirula national development exhibition paves the way for rapid development, especially for the overall development of rural areas, President Mahinda Rajapaksa said. President Rajapaksa addressing the gathering after launching the sixth Deyata Kirula exhibition at Oyamaduwa in Anuradhapura on Saturday said Deyata Kirula is not merely a carnival but a display of the country's future prosperity.
Anuradhapura was selected for the 64th National Independence Day celebrations and Deyata Kirula exhibition considering the historical importance of this area.
"The government is committed to develop rural areas with all modern facilities. Rural areas are subjected to rapid development," the President said.
The government's aim is to enhance the livelihood of rural people to meet the needs of the developing world, the President said.
"The government has transferred the benefits of victory to the people. In line with this move, the next Deyata Kirula exhibition will see massive development in Polonnaruwa, Ampara, Batticaloa and Trincomalee districts. The Eastern Province will see rapid development in concurrence with the 65th National Independence Day and Deyata Kirula next year," he said.
President Rajapaksa said we will meet pilots from rural area like this in the future. "Our computer literacy rate is around 45 percent. It indicates that our rural community together with others are moving with modern technology," the President added.
He said that the government will be able to utilize giant development works for national development by providing citizens with modern, scientific, technical and language skills, enabling them to be on par with the rest of the world. President Rajapaksa said that despite a number of invasions from alien forces, brave rulers had been able to safeguard the country's independence bringing it under one flag. "However, due to many reasons the kingdom was abandoned and rulers moved away from the city for their security."
Courtesy: Daily News
Latest Headlines in Sri Lanka