President Leaves for Nepal to Attend 18th SAARC Summit
Posted by Editor on November 25, 2014 - 7:13 am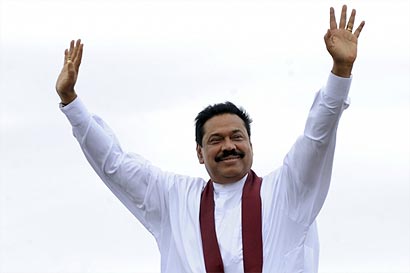 President Mahinda Rajapaksa, this morning, left for Kathmandu, Nepal, to attend the 18th SAARC Summit, taking place Nov. 25-27.
The 18th Summit of SAARC (South Asian Association for Regional Cooperation) is being held in Kathmandu for the third time. The first time it took place in Nepal was in 1987 and the second was in 2002.
The President will attend the opening session of the Summit on Wednesday (Nov. 26) and the retreat on Thursday.
In addition to the SAARC-related events, President Rajapaksa and the First Lady will also visit Lumbini, the birthplace of the Lord Buddha. While there, the President is scheduled to inaugurate the Dutugemunu Pilgrims Rest, an administrative building at the Buddhist University and a newly constructed bridge. He will also visit the Maya Devi Temple and the Sri Lankaramaya Temple.
In August, the new Secretary General of SAARC Mr. Arjun B. Thapa called on President Rajapaksa at the President's House in Kandy where he briefed the President on the arrangements for the Summit. The discussion between the President and the Secretary General also focused on the renewed interest among members in further strengthening SAARC within the region while also establishing it as a contributor to economic prosperity not only in South Asia but also in the international arena.
President Rajapaksa is also expected to hold several bilateral meetings with other SAARC-country leaders on the sidelines of the Summit.
(President Media)
Latest Headlines in Sri Lanka