President leaves for Pakistan on official visit
Posted by Editor on February 10, 2012 - 7:35 am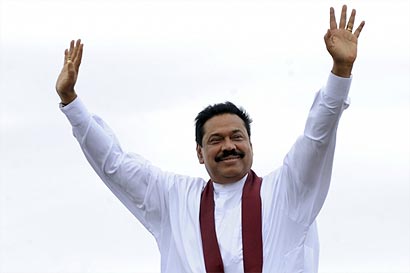 President Mahinda Rajapaksa will leave today for Pakistan on a two-day official visit. He will be visiting Pakistan on the invitation of Pakistani President, Asif Ali Zardari.
During his two day visit (today and tomorrow), President Rajapaksa will hold talks with President Zardari and Prime Minister Yousuf Raza Gilani.
Discussions will focus on further strengthening economic, business and trade relations among other matters, the President's Media said. Pakistan has been a close ally of Sri Lanka and has had long-standing bilateral relations and have been actively engaged in all important fields.
Pakistan has always extended its support to Sri Lanka during difficult times after the 2004 tsunami and conflict period being prominent among them.
Sri Lanka has come forward to the country's assistance on every occasion Pakistan has confronted natural disasters
Sri Lanka sent relief teams and doctors when Pakistan faced twin disasters in the form of a devastating earthquake and floods in 2006. Also recently a team of Sri Lankan doctors left for Pakistan to help local officials to combat dengue in the Punjab Province.
The relationship between Pakistan and Sri Lanka has been based on mutual trust and commonality of interest in maintaining regional peace, security and stability. Pakistan has always supported the unity, territorial integrity and sovereignty of Sri Lanka.
Both countries have shared common perceptions on almost all regional and international issues and work together on all these forums. In 2006, during President Rajapaksa's first official visit to Pakistan, several bilateral agreement were signed on several key sectors, thus further strengthening existing friendly ties between the two nations. In November 2010, Pakistan President Asif Ali Zardari visited Sri Lanka.
Courtesy: Daily News
Latest Headlines in Sri Lanka