US case against Shavendra dismissed
Posted by Editor on February 10, 2012 - 7:23 am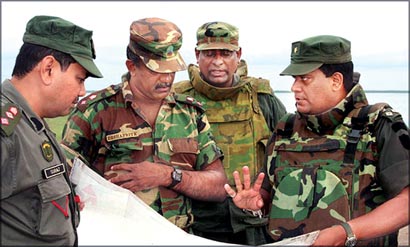 The case filed in a US court against Sri Lanka's Deputy Permanent Representative to the UN Major General Shavendra Silva, by former LTTE Eastern Leader Ramesh's widow Vathsala Devi, was dismissed on Wednesday as Major General Silva enjoyed diplomatic immunity.
Vathsala Devi filed the case demanding compensation from the senior army officer who commanded the Army's 58th Division involved in the military operation that defeated the terrorists in 2009.
The order was given by New York District Judge J. Paul Oetken. The plaintiffs were Vathsala Devi and Seetharam Sivam. Major General Silva was represented by Timothy G. Nelson.
"Because Ambassador Major General Shavendra Silva is entitled to immunity this court lacks subject matter jurisdiction over the claims against him. Accordingly, Silva's motion to dismiss is granted, and the complaint is dismissed for lack of subject matter jurisdiction," the verdict said.
Major General Silva told the Daily Mirror from New York that the court case was a good opportunity to the rest of the people living in the US to see how the remaining LTTE members operated.
"Wherever it may be I am ready and I will safeguard the dignity of my country and my men who fought along with me in defeating the LTTE and rescuing thousands of innocent civilians from terrorist clutches," he said.
"According to information I have gathered Vathsala had fled the country during the last stages of the war to South Africa and is currently living there," Major General Silva said.
The wife of former LTTE Eastern Commander Ramesh filed a law suit in the US against Major General Silva and received summons on September 24, last year in this regard. The wife of Ramesh was formerly a member of the LTTE female wing.
Courtesy: DM Online
Latest Headlines in Sri Lanka