Not so sweet warning by Health Ministry
Posted by Editor on February 9, 2012 - 9:28 pm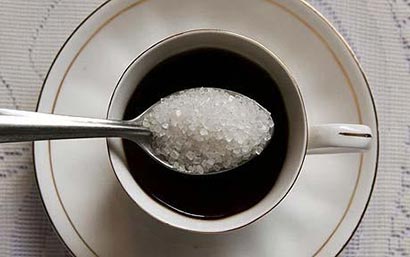 Hotels, restaurants, tea kiosks and cafeterias where sugar is being used as a sweetener are to be advised to display a health warning regarding the excessive use of sugar and the diseases caused by it.
In a bid to minimise the rapid increase of sugar induced diseases like diabetes, the Health Ministry has taken steps to issue guidelines on the consumption of sugar, Health Ministry spokesman W.M.D.Wanninayaka said.
He said according to a circular sent to Provincial Health Services Directors (PDHS) by Health Services Director General Dr. Ajith Mendis, PDHS will take measures to make sure that restaurants and hotels display a health warning prominently, on excessive sugar consumption at their establishments.
They will also be asked to serve sugar separately as opposed to a sweetened cup of tea enabling the consumer to prepare the tea by himself with limited use of sugar, he said.
Mr. Wanninayaka said the DGHS or PDHS have powers to impose these regulations under the Food Act 26 of 1980.
"The objective is to discourage the excessive use of sugar which is the cause for many a non-communicable diseases – diabetes in particular. The health ministry expects the cooperation of the public and the restaurant owners and hoteliers in this exercise. If the expected results were not forthcoming through non-punitive guidelines and instructions the ministry will seek a legal remedy to minimise excessive sugar consumption," he said.
Courtesy: DM Online
Latest Headlines in Sri Lanka