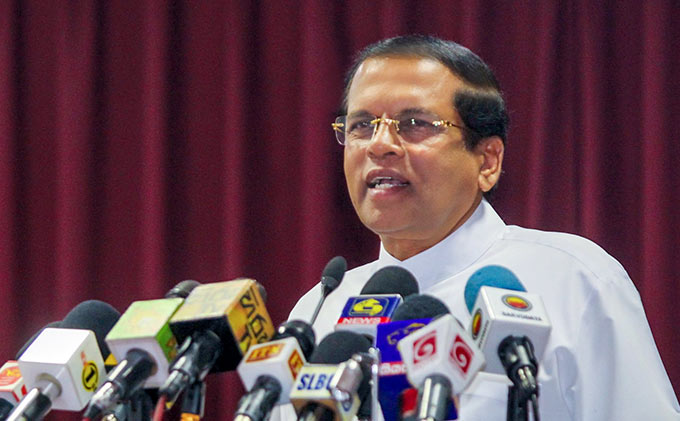 President Maithripala Sirisena said, the late Ven. Maduluwawe Sobhitha Thera never intended to choose a common candidate, for the Presidential Election, with the aim of stealing from the Central Bank.
The President was speaking at a discussion held to mark the 76th birth anniversary of the late monk, at the Sri Lanka Foundation Institute yesterday (30).
He added that whilst there were some who questioned his Chairmanship of the Sri Lanka Freedom Party (SLFP), due to the presence of SLFP Ministers the country was safeguarded from many dangers. He also added that he was prepared to debate this with anyone, even on television.
The President said that the Presidential Election will take place towards the end of next year and claimed that speaking of it now would only destabilize the country.
Sirisena further noted that he was prepared to answer to anyone who claimed that the country has deteriorated during the past few years.
He also added that he was not the one who had provided the previous President with a helicopter to go to Tangalle after he won the last Presidential Election and the latter lost it. He added that the order had been given by a person in the Air Force who had claimed that the order came from Sirisena.  Furthermore, the President said that he did not know who made the 100-day programme, and that its biggest mistake was that it did not state that the Parliament would be dissolved the day after the Election.
Adding that whilst there were those who claimed that even a puppet would have won if they were put forward as the common candidate at the last Presidential Poll, Sirisena said that he was chosen as the common candidate because there was no one else suitable for that position.
(Source: Ceylon Today – By Denagama Dammika Ranaweera)