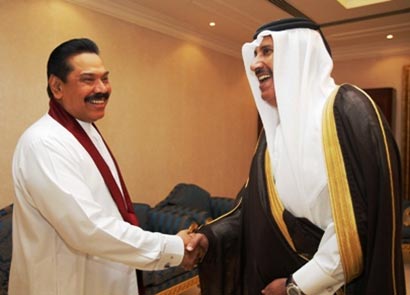 President Mahinda Rajapaksa, currently on a State visit to Qatar met Prime Minister and the Foreign Minister of Foreign Affairs of the State of Qatar, Hamad bin Jassim bin Jaber Al Thani on Sunday.
The Qatar Emir has said that he made a point to stay over and meet President Rajapaksa by cancelling a scheduled state visit abroad as President Rajapaksa's visit to Qatar is a great honour bestowed on Qatar.   and has added that he made a point to stay over and meet President Rajapaksa by According to a release issued by the President's Media Division the Qatar Emir has stated that the development assistance extended to Sri Lanka by his country is far from satisfactory, and that he was prepared to extend any type of assistance to Sri Lanka in the future as a mark of respect for President Rajapaksa.
Qatar Emir Sheikh Hamad bin Khalifa Ali Thani and Qatar Prime Minister Hamad bin Jasim bin Jahar Althani at the discussion has further emphasised that State of Qatar main objective is to  see Sri Lanka achieving rapid development and  It is prepared to assist Sri Lanka in achieving this goal without any pre – conditions or agreements. The emir also has praised the growth achieved in the development field in Sri Lanka within  a short period after gaining peace from the 30 year long war with the able leadership of President Rajapaksa.
The Qatar Prime Minister has thanked President Rajapaksa for the hospitality accorded to him during his recent visit to Sri Lanka , and has said the cordial friendship between the two countries should be strengthened in the future.
President Rajapaksa has warmly thank Qatar for the unstinted cooperation and support extended to Sri Lanka at the recent UNHRC sessions.
Ministers Prof G L Peiris, A H M Fowzie, Rishad Bathiudeen and Rauf Hakeem, Deputy Ministers Faizer Musthapha, Parliamentarian A H M Azwer, Secretary to the President Lalith Weeratunga and Sri Lankan ambassador in Qatar Jayantha Palipana were also present at the discussions.
Source: Government News Portal