President opens Lotus Pond Mahinda Rajapaksa Theatre: Fillip for Performing Arts
Posted by Editor on December 16, 2011 - 10:44 am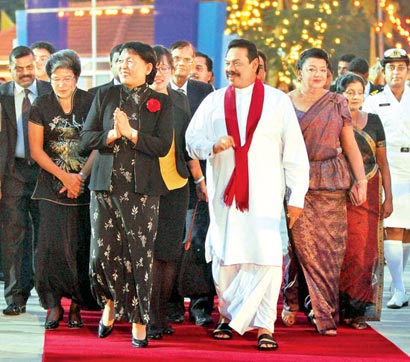 President Mahinda Rajapaksa yesterday said that the Lotus Pond Mahinda Rajapaksa Theatre will help improve self-confidence, talents, self-discipline and knowledge of various societies among the younger generation of the country.
Calling attention to the physical and spiritual development among the people, the President said that it will help build a generation who can withstand any challenge in the future.
The President was addressing the inauguration of the country's first state of the art Performing Arts Theatre – the Lotus Pond Mahinda Rajapaska Theatre in Colombo.
He was of the view that perception and self-discipline are integral parts of spiritual development.
"The country created the Samadhi Buddha statue in Anuradhapura when the Chinese were building the Great Wall. When China introduced printing technology to the world, Sri Lanka began committing Dhamma books into writing," he said.
The President also spoke about the Rubber-Rice Pact which was signed between Sri Lanka and China in the 1950s. He said the Bandaranaike International Conference Hall and Supreme Court complex, symbolize the everlasting friendship between the two countries.
"China always stands by Sri Lanka in times of need." He said the support extended by China to protect the country's sovereignty, independence, and honour is immense.
He recollected how Chinese leaders promised support for the Hambantota Harbour Project, Norochcholai Coal Power Plant Project and the Performing Arts Theatre during his maiden visit to China as the President.
The people of Sri Lanka have been waiting for these projects, he said. He thanked the government and the people of China for gifting this theatre to Sri Lankans.
"If this type of theatre was built some time back, a number of high quality artistic creations could have been evolved. Sri Lanka is engaged in a mission to construct ports, airports and power plants to ensure that people receive all facilities," he said. He added that Sri Lanka is a country which is striving for the uplift of amity and closer cooperation between all communities. The President said that Sri Lankans should have large hearts to tolerate joy and woe alike.
He made special mention of former Prime Minister Sirimavo Bandaranaike whose contribution helped build closer cooperation in many fields with the People's Republic of China.
First Lady Shiranthi Rajapaksa, Prime Minister D.M. Jayaratne, National Committee of the Chinese People's Political Consultative Conference, Vice Chairperson Zang Meiying, members of the diplomatic corps and ministers were among those present.
Courtesy: Daily News
Latest Headlines in Sri Lanka